Crutchlow enjoys his first day on the Honda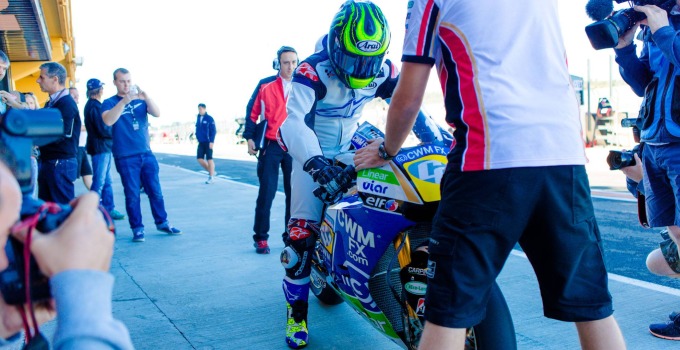 Cal Crutchlow thoroughly enjoyed his first outing on his Honda RC213V in today's post season test in Valencia.
The Brit, who has left Ducati after just 12 months with the Italian brand has signed a one year deal with Lucio Cecchinello's LCR racing team, to ride a full factory spec Honda RC213V.
Crutchlow ended the first day in eighth position, and posted his fastest lap of the day on his penultimate lap of the day, showing encouraging signs of progression through the first day already for the Brit. He will also be buoyed at seeing Andrea Dovisioso just two tenths of a second ahead of him already.
"It was an enjoyable day and riding a Honda is something I have wanted to do for a while," said the Brit after the first day in which he posted 53 laps on his new bike.
"It was hard work learning the settings of the bike and the electronics and how the bike works. It is completely different to what I have been used to and it is like learning again.
I improved all day and did my best lap with 27 laps on the tyre, so I am pleased with that but the funny thing is I didn't get a benefit from a new rear tyre again. I have to work on my style but I was impressed with the bike.
"The bike turns very well. You can brake deep into the corner and still make the turn. It is really impressive but you have to look for rear grip a lot more than other bikes I've used. But the engine is strong and the electronics work really well."
Many people tipped Crutchlow to succeed on the Ducati due to his aggressive riding style, but ultimately the equipment let him down. He does, however, feel that the improvements he has made as a rider on the Desmosedici this season, will make him faster on  his new Honda.
"Yes [my riding style is suited on the bike] because you can move a lot on the bike and be hard with it. It is an aggressive bike and likes to be ridden aggressive if you look at how Marc rides he is riding the bike like an animal and that is good for my style.
You have a lot of feeling with the bike in your hand. You have a lot of connection and you can really understand the bike just through your right hand. You can push the bike a lot more so you can get away with making a small mistake and still make the corner.
"I have to change the style but I believe that the style that I have adopted this year is quite beneficial as well."