Viñales: If Marquez can do it, so can I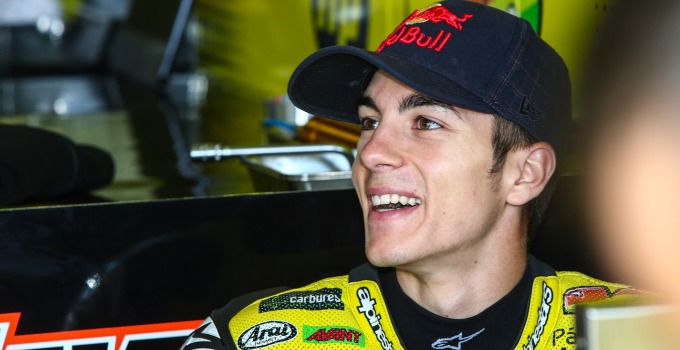 MotoGP bound Maverick Viñales goes into MotoGP in high spirits, with a positive attitude, insisting that if Marquez can win in his first season, then why can't he?
Viñales' move to MotoGP was made official yesterday in Köln with Suzuki formally announcing their return after a three year absence with their brand new GSX-RR machine ready for 2015, alongside compatriot Aleix Espargaro. 
Despite being third in the Moto2 title, some 74 points behind championship leader Tito Rabat – who has confirmed he will stay in Moto2 – Viñales feels he is ready for the jump up to MotoGP, even after just one season in the intermediate class.
"I've gained a lot of experience this season in Moto2," Viñales told Marca.com. "I've learned a lot. The leap to Moto2 from Moto3 helped me a lot too.
"If Marc Marquez can do something, I can too. I never get scared."
Taking inspiration from what Marquez has done, Viñales feels he is ready for the jump despite his tender years.
"To be completely honest, I feel more ready for it all the time," he told the official MotoGP website.
"With each and every race weekend that goes by, I am working better and better in Moto2. I know more about the team and the bike and am adapting better each time to each circuit. Also, I am becoming more and more confident in my own decisions.
"At first it felt like it was a joke! I was in my first Moto2 season and, all of a sudden, a big factory like Suzuki wanted me. At first you think to yourself, 'They will want to talk to me in a couple of years', but ultimately they wanted me for next year and we were able to reach an agreement. This is like a dream. I am very happy to be moving up to the premier class and I'm eager to get going."
Viñales' move means he joins Jack Miller in a rookie for next season as MotoGP continues its evolution into the next generation of racers making their move to the premier class.