Jack Miller happy to be the centre of attention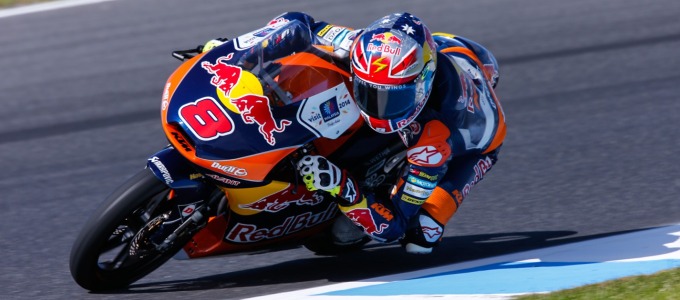 Moto3 title contender Jack Miller said he is happy being the centre of attention, and loves having the camera on him.
The Australian rider, heads home to Phillip Island this weekend, is currently sat in second place in the Moto3 World Championship standings. However, Miller saw his lead cut away after a commanding position, to the point where he is now 25 points behind Alex Marquez, with just three rounds to go.
Despite apparently having the pressure of a nation on his shoulders, this isn't something that Miller feels hamper him this weekend, instead he is insisting it's a bonus having all the fans behind him. 
"A lot of people could say you've got the pressure of this and that, but that's almost like a bonus," Miller told the Sydney Morning Herald.
"It's a dream to come to the Island and have the attention on you. I'm a bit of an attention-seeker, I guess, so it's sort of a dream come true for me.
"I'll have a lot of home fans there cheering for us, so it'll be good. The attention's always good. I'm a clown, I like to make people laugh and I do stupid stuff, so be able to have the camera on me when I'm doing stupid stuff is even better.
"I try to be a bit of a character… I like the camera to be on me while I'm making a dickhead of myself."
Despite earning himself this character as a joker, renowned for his wheelies and "goon riding", he does take his riding, and his job very seriously. As well as having fun, he wants to win, and knows what it takes to win.
"There's everything to play for," he said. "I'm only 25 points down now, which is too many for my liking, but we're still in there with a shout and we're going to give it 110 per cent.
"It'll be win it or bin it… in the next three races."
Miller has forged quite the rivalry with young brother to MotoGP World Champion, Alex Marquez. It's not only the rivalry with regards to battling for the title that is the main factor behind it. A collision between the pair saw Miller crash out whilst battling at the front during the Aragon Grand Prix. Miller crashed out, Marquez went on to claim 20 points. 
It is a rivalry that Miller is expecting to run throughout their careers, even if he won't be competing against him next season.
"We'll get a break from each other for a couple of years," he smiled. "We'll need it after this season, I think."