Lorenzo buoyed by practice pace, but confused by "violent" crash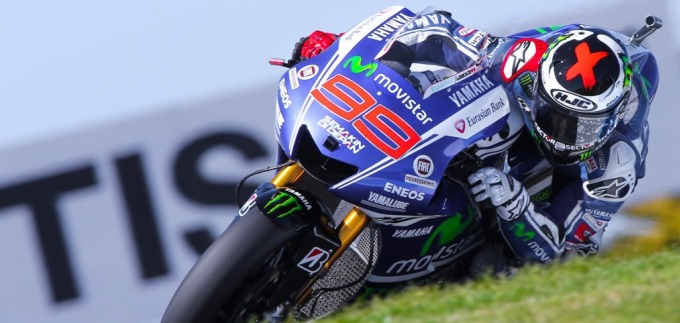 Jorge Lorenzo finished fastest during the first day at Phillip Island, but ended the day slightly confused about a crash caused by his asymmetric front tyre.
After last years tyre issues at Phillip Island, Bridgestone are testing a new asymmetric front tyre, in which the right hand side of the tyre is harder than the left side. It is the first time that Bridgestone have used these tyres over a race weekend, and the verdict is still out as to whether they will be an option of this sunday's Australian Grand Prix.
Five minutes before the end of the session, whilst going into the right handed Honda hairpin, Lorenzo's front end folded just before he was about to tip into the corner. Pol Espargaro suffered a very similar crash in the same corner, whilst Ducati duo Andrea Dovizioso and Andrea Iannone had similar crashes in turn 10, the MG corner.
"I didn't expect the crash because I was braking more or less at the same point with similar pressure as the previous laps but suddenly, without any warning, the front tyre closed," said Lorenzo who led Marc Marquez and Andrea Iannone in practice.  
"Within one tenth of a second I was in the gravel. It was quite a violent crash, but luckily it wasn't so hard that I got injured. My leathers are completely destroyed, but I am ok, which is the most important thing. I think the asymmetrical front tyre was too hard for these cold conditions.
"In the cold temperatures the extra soft front is better but if tomorrow the weather is hotter than maybe the asymmetric can work. The [medium] rear tyre is much worse than last year and much less grippy. For one lap or for maybe ten laps it is one second slower because everything is harder so it can survive more laps, but obviously the race pace will be much slower."
Lorenzo was one of five MotoGP riders to test new Bridgestone tyres in Phillip Island in the summer, although the new asymmetric tyres weren't part of the test. 
"It's a combination of the tyres that we used in the test," explained the Mallorcan.
"Some of those tyres were half a second slower than the race from last year, but at the end of the longer simulations it was already destroyed and that is why Bridgestone have brought a tyre even harder than the hardest that we had at the test and that is why it's one second slower than last year."