Casey Stoner heaps praise on Marc Marquez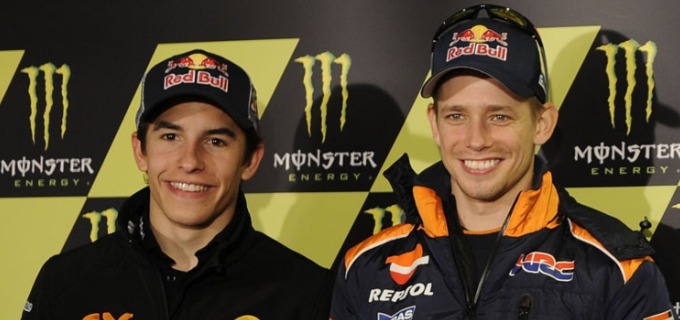 Former MotoGP World Champion Casey Stoner has said that what he's done to the competition this season is exceptional. 
The 29 year-old was back at Phillip Island this weekend, where he was honoured by a bronze bust at the track, and he was speaking about the man who inherited his bike when he retired from the sport, nearly two years ago. 
"The amount of races he won in a row, pole positions, everything has been extremely impressive. There is nothing to say against it. Complete domination and no-one has had a chance to challenge him this year," said Stoner, speaking at the unveiling of his bust alongside similar busts of Wayne Gardener and Mick Doohan.
"Dani, Jorge and Valentino, they tried, they each made mistakes during the year and this really allowed Marc to get further in front. This meant when Marc did have a bad race it wasn't a problem for him. It has been more than exceptional."
As well as complimenting Marquez' dominance, Stoner also said he was happy that Honda managed to claim their third title in the last four years, the first of those being his one with HRC back in 2011. 
"Honda's domination is something that makes me proud. Before we got there it wasn't the most popular bike and we worked hard with it, it was already a great bike."
"There were one or two things we did to make the bike more comfortable for me but I think it's a fantastic bike. All the bikes are capable of winning, but in terms of simplicity Honda is the best one to work with."