Suppo: Stoner is as talented as Marquez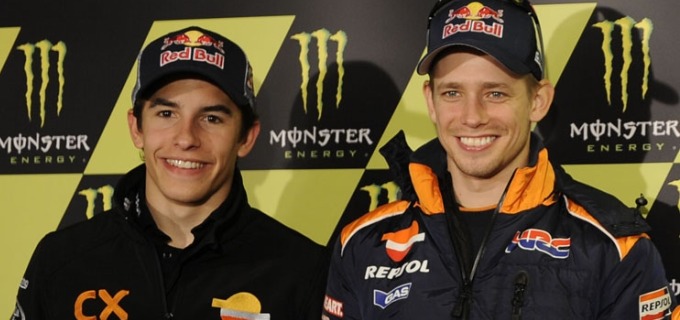 Honda Racing Corporation Sporting Director Livio Suppo has claimed former MotoGP World Champion Casey Stoner is as talented as the reigning World Champion Marc Marquez. 
Stoner retired from MotoGP at the end of the 2012 season, and his successor seems to have only taken the bike to the next level. Marquez' charm and young fresh approach is stark contrast to the man he replaced on the RC213V, the much maligned Australian who wasn't best loved or supported. Despite not being the most loved rider to ever race in Grand Prix racing, Stoner was inducted into the MotoGP hall of fame as a MotoGP legend last October as a double world champion with two different brands. 
With Stoner exiting, in came Marc Marquez, and changed the sport forever, breaking almost every record in the book. A long with winning races with apparent ease, Marquez won the hearts of many fans for his racing and innocent approach to racing, reminiscent to a certain young Italian, showing fans there is life after the Doctor eventually hangs up his leathers. 
Livio Suppo was instrumental in bringing Casey Stoner to Honda from Ducati after making the same move months earlier, and it appears that Suppo hasn't forgotten about the immense talents of the Australian, even in the middle of Marquez mania. 
"Casey Stoner and Marc Márquez have a similar results. In addition, they are pretty equal in terms of talent and riding style," Suppo told GPone.com. 
"But the big difference between the two is the character," Suppo went on to say. 
Relationships between Stoner and Marquez aren't known to be frosty, but Marquez did admit last year when speaking exclusively to GPxtra that Stoner hadn't spoken to him directly after replacing him, despite his sensational start in MotoGP. 
When asked by GPxtra if he had spoken to Stoner, Marquez replied with: "No, I don't know Casey very well. I saw a nice message on Twitter from him but I didn't speak to him myself."