Stoner thinks he could still beat Marquez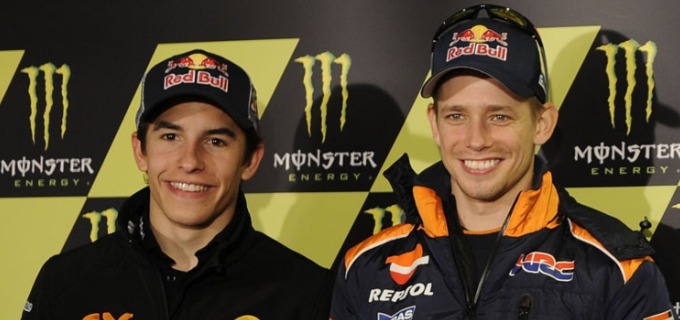 Former two-time MotoGP World Champion Casey Stoner has said he thinks he could keep up with Marc Marquez if he still raced today.
The Aussie, who hung his leathers up in 2012, left the sport, after stating he had fallen out of love, and wanted to peruse other things in his life, namely watching his young daughter grow up. After a brief spell racing V8 supercars in Australia, Stoner realised nothing gave him the same thrill as riding a MotoGP bike, and he has subsequently partaken in private tests for HRC.
Although no times have come out from Stoner's tests, HRC are understood to be very satisfied with his testing programme, and he is rumoured to be racing in the Suzuka 8-hours for HRC this year.
When asked about here he thinks he would fare in the MotoGP world today, Stoner gave, true to form, a honest answer.
"I think speed wise, I wouldn't have a problem," the 29-year-old told OTOR magazine. "Marc is incredibly consistent week-in, week-out, but Jorge, Dani and Valentino… they have all proved that he is beatable.
"For a championship…? I don't know. Each championship is different and there are injuries to take into account. I wouldn't be worried about speed. I think too many riders over-analyse things. It is about who you have to deal with on the day. You've got to worry about getting your bike off the line first and then deal with what's thrown at you. You cannot predict it.
 "I think without a doubt I would still be fast enough to win. But every race? The competition is extremely high right now."
Stoner mentioned Rossi, and a lot has been made about Rossi's resurgence back on the M1, and his failings with Ducati. Stoner didn't think he was doing anything exceptional, just remaining flexible.
"I think that was my strength to be honest. In that I never just sat on what I thought I knew and went 'OK, the bike needs to change or be adapted to me'. I think that was a difference over other riders because I just adapted to what I had. I think that was a big part of why I was successful with Ducati; we could adapt to what we had in front of us.
"I think too many people out there try to be the genius in development. They like to talk so much about development-this, development-that but it is all just bull crap.
"If you look at anything then there is always a weak point, so find it and then look at the strengths and use them."
As well as his hard, loose riding style, Stoner will be remembered by many as largely unloved by MotoGP fans, but he feels they are starting to appreciate him more now he has finally gone.
"I think so. Especially because now it is a few years after [I retired] and people are realising that I am not going to be there. I still get a lot of appreciation from Honda because they get a lot of decent data from me especially as nobody else can really push the bike close to the other guys. They are very happy with what we are doing.
"It did seem that people took me for granted a little bit – or my word. They didn't believe I'm the straight shooter than I am. When I said I was retiring people tended to comment: 'it's a ploy to get more money' or something for attention. They were looking for that second 'thing' or that excuse… Whereas quite a few no see that I was straight down the line and what I said in the past was true or what I meant.
"I think I am getting more respect now than what I previously had in my career."
Photo via MotoGP.com