Marquez: "We sang every song they had!"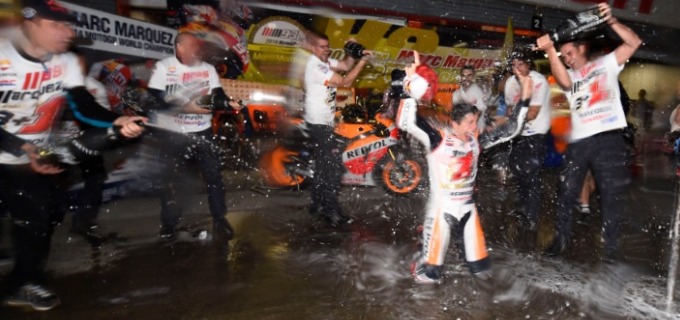 Marc Marquez partied his second world title by singing in a Tokyo karaoke bar until he lost his voice.
The now, double MotoGP World Champion managed to retain his world title with a second place finish this past weekend at Motegi, and he celebrated with his team at the track and on the podium until the early evening. Being doused in champagne on the podium by Jorge Lorenzo and Valentino Rossi, and then again by his team later on, with HRC vice-president Shuhei Nakamoto and Repsol Honda team manager Livio Suppo also getting a shower in pit lane.
A celebratory dinner with HRC followed, but, the celebrations didn't stop there. Marquez and his team continued the celebrations long into the night, and were rumoured to be in a karaoke bar until 7:30 am.
"It was very touching, with the samurai at the circuit and then with the team in parc fermé and of course, on the podium, what a bath of champagne," Marquez wrote on his Repsol blog. 
"Then, of course, we celebrated the title. It had to be done! First of all, a party / buffet at the circuit restaurant with the bosses from Honda. Then in Narita (Tokyo), near the airport. We went to the same karaoke as other years, with my team and Álex's. And we sang every song they had, so as you can imagine: we've all lost our voices!"
Marquez also used his Repsol blog to talk about the events which proceeded and prompted the scenes of wild celebrations in Japan, and he admitted to feeling nervous ahead of the race. 
"Everything was so special, absolutely everything. I really wanted to clinch the title in Motegi. The goal, of course, was to do it wherever I could, but doing so in the home of Honda makes it even more special, I can't deny it," wrote the 21-year old.
"I must admit that the weekend wasn't easy. On Friday and Saturday we weren't totally comfortable and on Sunday I was a bit nervous. I couldn't relax during the entire race. The most important thing is that my goal, obviously, was to finish ahead of Dani and Valentino, and we did it.
"I'm really happy for every member of the team, they've done an incredible job all season; they're the best! Also for my family, my friends and for the sponsors who have always supported me. Many thanks to my fan club too. They're incredible and as well as all of the support they give me GP after GP, this time they organised a huge celebration in Cervera, so that all of the fans who got up early to watch the race could enjoy it and celebrate it with us from there."
Despite having the title now secured, Marquez isn't ready to let off or go on his holidays just yet. He is ready to get back to winning ways and is in Australia looking ahead to this weekends Australian Grand Prix, the scene of last years tactical gaffe that saw him black flagged and almost cost him his first MotoGP World Championship.
"It's a very happy time and being able to celebrate it has been really nice. But the schedule doesn't allow us to rest so now we have to try to recover and focus again, as we have a lot of work to do over the next two weekends and we want to have the best possible race, both in Phillip Island and Sepang."