Andrea Dovizioso: Dall'Igna has changed everything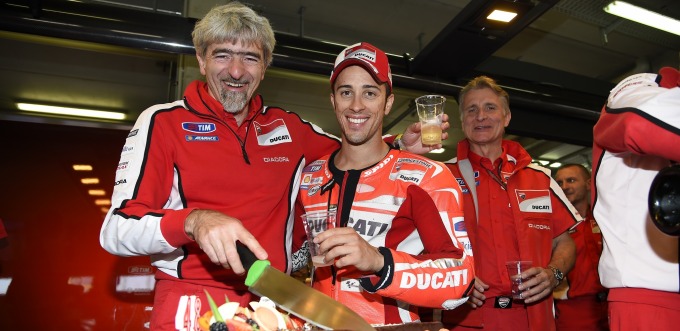 Andrea Dovizoso has said that Ducati's new sporting director, Gigi Dall'Igna, has changed everything since taking over from Berhard Gobmeier at the beginning of 2014. 
Ducati have made slow, but significant progress this season, with further evidence of this last time out, when Dovizioso claimed Ducati's first podium for four years, and the first in the post-Stoner era of Ducati. He went on to back it up with a solid fifth position behind the factory boys from Yamaha and Honda.
Dall'Igna was seen almost as Ducati's last hope, after the Bologna factory managed to recruit him from Italian rivals Aprilia. And whilst progress has been evident, there is still a lot of work required if Dall'Igna and Dovizioso want to get Ducati back to a consistent race winner. 
When Dovizioso claimed Ducati's first pole in four years, Dall'Igna said that "At the moment, Dovizioso, is one of the best riders in the World Championship", and Dovizoso wasn't shy in complimenting his boss when he was asked by speedweek.com about what he has changed at Ducati.
"He has changed almost everything. Firstly, he has restructured the factory. I have often said that I appreciate Gigi's working style," said Dovizoso. "He's very experienced, and everybody can talk and bring ideas to him easily. 
"He has achieved a lot, even if he's not done anything special. He's had a lot to do, maybe even too much! We are improving step by step." 
The step by step improvements are clear to see, with Dovizioso finding himself on the podium twice already, and saying the gap to the "big two" is now about tenths, not seconds. 
"In addition, Ducati had the opportunity to develop the bike, this is where Gigi is very logical," continued the Italian. "With strong riders and good engineers, Ducati want to improve."