Marquez could stay at Honda for the rest of his career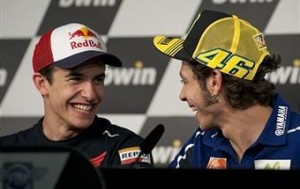 Defending MotoGP World Champion, and current runaway points leader Marc Marquez has sent an ominous message to the rest of the MotoGP paddock, he may end up spending his entire career with Honda.
After winning the title, and four from four this season, there is no reason why Marquez would want to leave Honda. 
Back in 2003 Valentino Rossi was in the same position, but he decided to leave HRC for a new challenge after feeling "like a prisoner" under the stewardship of HRC.

This isn't something that Marquez is currently thinking though, with the Spaniard loving his time aboard the RC213V.
"At the moment I feel so good with Honda," said Marquez who won his first ever Grand Prix race in Jerez. "I didn't think about that. You can see on track that I feel so good with the team and the bike."
With Marquez' contract ending at the end of the season, there would be no shortage of offers if he didn't come to an agreement with Honda, but his latest contract is expected to be sewn up by Mugello at the latest. 
When Valentino Rossi was asked on the situation, and what he thinks, he said he wouldn't be surprised to see Marquez follow in the footsteps of Mick Doohan and spend his entire career with HRC.
"I laughed because I think it is interesting, to see Marc with another bike," said Rossi.
"I think that anyway he is strong, but it is too early. Maybe in the future."
"I don't know, sincerely, the situation in Honda now. But maybe it has changed from the past. In 2003 I just needed some different motivation. It is something you have inside you, in your heart. It was a great choice for me to go to Yamaha. I think every rider has a different story, different career and different feelings inside," explained the Doctor.
"I think Marc can race for Honda his entire career if he feels good."