Casey Stoner to continue Honda testing role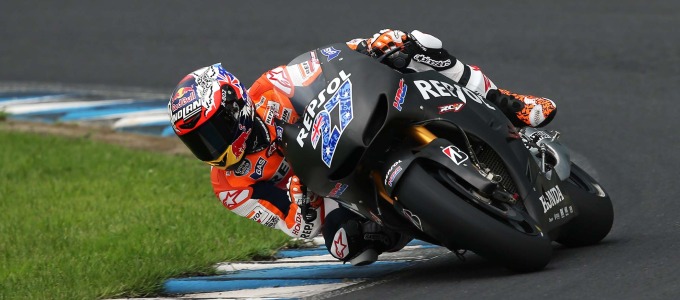 Former double MotoGP World Champion Casey Stoner will continue with his testing duties for Honda this season.
The Australian who retired from the sport at the end of the 2012 season due to falling out of love with the sport tested the Honda production RC1000 last season, but his development chances were hampered when rain forced over half of his 2013 testing days to be cancelled.
Stoner spoke of his enjoyment at being able to ride a MotoGP bike again, but without the stresses and demands of competing in the World Championship. Moto.it are now reporting that the Australian will be returning again this year to do some more work for HRC. 
Stoner will be in action the scene of Honda's triumphant weekend, and their home track of Motegi at the end of the month on a two day test over the 29th and 30th October.
It is a vitally important test for Honda, as Stoner will not only be testing the 2015 RC213V with Bridgestone rubber, but he will also test the Honda with the brand new Michelin tyres on the second day, ahead of their return as the Official Tyre Supplier for MotoGP in 2016. 
It is a similar role to what Colin Edwards will be performing for Yamaha this week, when he takes to the track to test the next generation of the M1 with the Michelin tyres. Quite how many more days of testing Stoner will do for Honda isn't clear yet, but without any V8 commitments this season, there shouldn't be a limitations to Stoner's schedule.