Dovizioso: We are now talking about tenths, not seconds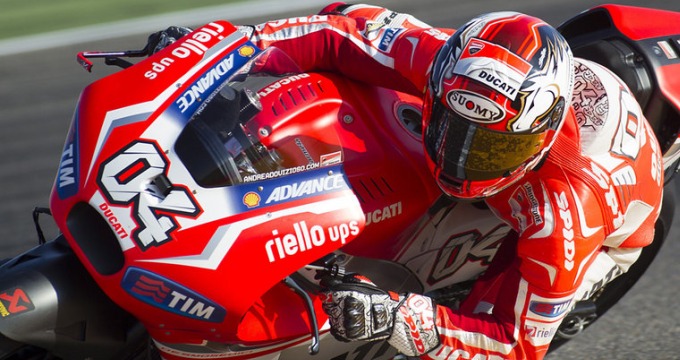 Andrea Dovizioso is buoyed about the progression being made by Ducati, and insists they are now talking about tenths, and not seconds when talking about the gap to Yamaha and Honda.
Since the summer break, Ducati have come on leaps and bounds, closing the gap significantly to the front of the race, and Andrea Dovizioso and Andrea Iannone are now regular fixtures on the front row of the grid after qualifying, and Dovi has claimed two podiums this season, with Cal Crutchlow adding a further third, showing progression being made, especially with the introduction of the GP14.2 in recent weeks.
"The way to approach a race weekend makes the difference, and things have improved," confirmed Dovizioso speaking to GPone.com ahead of this weekends Japanese Grand Prix. "Now we are talking about the difference being tenths, not seconds. The gap is not as big as it was the past."
Dovizioso is now confident that he and Ducati can start claiming podiums not just at the misfortunate of others, and with others making mistakes, but off their own accord and on merit. Despite that, he knows it's not going to be easy. They are still slower than both the factory Honda's and Yamaha's. 
"It's time to stay calm and analyse the situation. Four Factory Honda and Yamaha are still ahead of us, we start at a disadvantage, but working in the right way, we can aim for the podium. I have no illusions that it'll be easy, the problems have not disappeared.
"The GP 14.2 is not as fast as the previous version, only easier to ride."
That last sentence could be the most important one about the new Ducati's. They have never been slow motorcycles, but, they have always been the most difficult to ride. Front ends folding and poor corner entry, there have always been the problem with the recent Ducati's. If Dall'Igna can make the Ducati rideable once again, they will go back to have a competitive motorcycle, capable of once again winning races.
Ducati will be hoping that this weekend they can continue their good form, and continue to progress right up until the season finale in Valencia. Dovi goes to Motegi in high spirits despite his spill in Aragon, as he heads to a track that has served him well down the years. 
"I really like it, it's perfect for someone like me and I have always been competitive, on any bike I ridden there. It's not easy to find a good set-up but delivery optimistic. I know that if we give our best, we could get a podium."