Espargaro to run three-man Moto3 team in 2015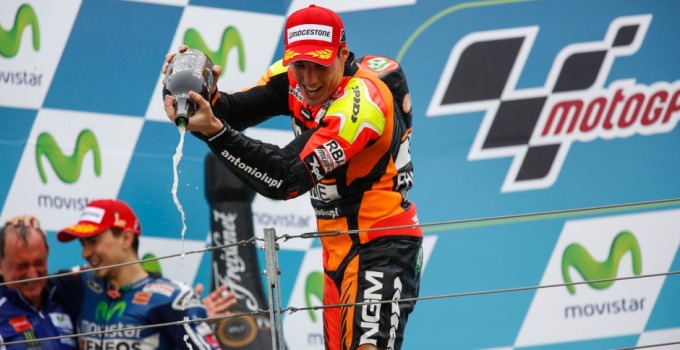 Aleix Espargaro and his RBA Racing Team will run a three man team in Moto3 next season, expanding from their CEV operation this season. 
Espargaro's RBA team entered the CEV Repsol Spanish Championship for the first time this season, and their rider, Gabriel Rodrigo, is currently sixth position in the championship on a KTM with three races and two rounds remaining in the season. As well as running Rodrigo in the CEV Championship, he has also featured in six wildcard performances with a seventh due in Valencia in November.
The success enjoyed, as well as his own success has prompt Espargaro to upscale the whole effort into a full Grand Prix team. As well as helping Rodrigo get his first chance as a full time rider in Grand Prix racing with the team, he will also run Niklas Ajo and Ana Carrasco according to Motocuarto.com. 
Espargaro is believed to have signed a deal with Aki Ajo to receive support from the top for his KTM bikes from the man with the closest thing to an official KTM team in Moto3. He will also receive support for running Carrasco from Dorna in their bid to keep a competitive female racer in a bid to get her on competitive machinery. 
The RBA Racing Team won't be the only three man team in Moto3 next season. Aki Ajo's Red Bull KTM confirmed Brad Binder and Miguel Oliveria will join Karel Hanika next season.
Whilst Emilo Alzamora's Estrella Galicia 0,0 Honda team will have a three man team next season with CEV Champion elect Fabio Quartararo now being granted permission to race with the rule being made he can race at 15 should he win the title. The Frenchman will be joined by his current team-mate in the CEV Championship Maria Herrera who has also featured as a wild card on multiple occasions this season. They will be joined by current Marc VDS rider Jorge Navarro who is another front runner in the CEV Championship.
There is also the Aspar team who are expected to be running three riders in Moto3 next season whilst becoming the official Mahindra team for 2015 too. They have confirmed Juanfran Guevara who has enjoyed a strong second half of the season, and Jorge Martin for 2015 already. There are thought to be close to finalising a deal to run Italian Pecco Bagnaia for 2015 too. The Italian currently partners Romano Fenati in the VR46-Sky KTM team, but with Andrea Migno replacing him, Aspar has jumped at the chance of signing the young Italian.