Danilo Petrucci to join Hernandez at Pramac Ducati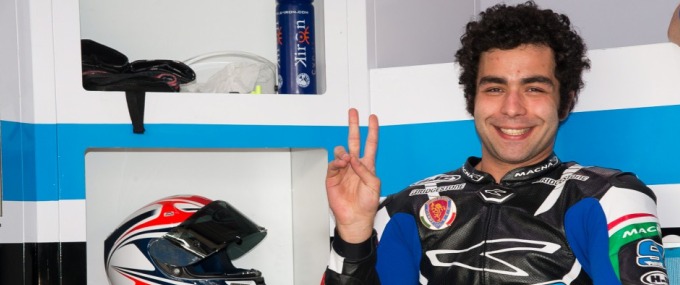 Danilo Petrucci will be the man that Ducati want to partner Yonny Hernandez in the Pramac Ducati squad next season. 
With the 2015 grid taking shape quickly now with the announcements of Scott Redding, Alvaro Bautista, Eugene Laverty and Jack Miller all in the days since the last race in Misano, there are only a few seats still free for next season. The second Forward racing seat alongside Stefan Bradl is currently free, as is the seat next to Yonny Herenandez at Pramac. There is also seats at Aprilia and Avintia Ducati which haven't been taken yet. 
Ducati we're left short in their search for a fourth rider after Cal Crutchlow announced he would be staying with the factory Ducati team during World Ducati week in Misano on July 19th. The Brit stated his intentions to stay and see out the second year of this contract with the factory team despite having a get out clause in his contract. 
However, once it became clear that Stefan Bradl's contract with LCR Honda wouldn't be renewed, by HRC, and he signed for the NGM Forward Racing team, Crutchlow went back on himself, and decided he would like to leave Ducati and instead sign for LCR Honda for 2015. 
Ducati didn't have a problem with Crutchlow leaving, allowing them to promote the impressive Italian Andrea Iannone from the Pramac team into the official factory team, but it meant they were left short in their search for a rider to partner Hernandez.
Ducati pushed hard to sign Scott Redding once it became he wouldn't be getting a factory bike from Gresini, and there was an offer on the table from Ducati for the Brit, right up until when he decided to sign for Marc VDS on their RC213V. 
With Alvaro Bautista out of reach and already in Aprilia's grasp, and Ducati not interested in Loris Baz there wasn't many riders which Ducati were left with the option of. 
So Ducati then turned to Danilo Petrucci with time running out, but Ducati bosses Gigi Dall'Igna and Paolo Ciabatti were initially reluctant to sign the Italian to the Pramac team, according to speedweek.com. Rumour has it they weren't too keen on having three of their four riders being Italian, and with Dovizioso and Iannone already signed to the factory team, they were interested in a rider of a different nationality to help promote the world wide brand. They instead wanted Petrucci, who has done some testing with Ducati, to join Barbera in the Avintia-Ducati team.
But with options running out, and time running thin, it appears they have decided to reluctantly sign 'Petrux' up for next season. 
The 23-year-old has endured a difficult season on the very underpowered ART. Petrucci has managed to finish in the points three times this season, but he has also missed four races with a broken leg.