Jack Miller to LCR Honda is official… finally!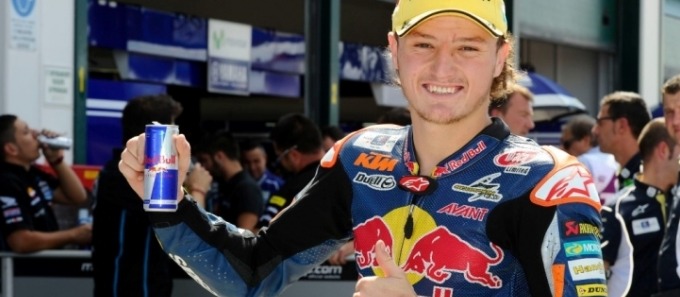 This seasons MotoGP worst kept secret it out and official now, Jack Miller will ride for LCR Honda next season. 
The current Moto3 Championship leader has signed a three year deal with HRC, with at least the first two season being on the LCR Honda. 
Next season will see the 19-year-old on a production racer, alongside Cal Crutchlow who will be on a full factory machine. It remains to be see what bike he will have for 2016 and '17 with Crutchlow's contract with LCR only a single year one at the moment.
Miller, who hadn't even had a Grand Prix podium before this season, becomes the first rider to move directly from the smallest class of Grand Prix racing, to the premier since Leon Haslam made the same jump in 2001. 
"I'm very happy to make the leap up to MotoGP next year, especially because I will do so alongside HRC," said the Australian.
"It's a dream come true; I think that every rider would like to race at the highest level in the World Championship with a Honda. It is certainly a big jump from Moto3 to MotoGP, but I am convinced that we are ready and that, step-by-step, learning every day, we can do a great job.
"It's a fantastic opportunity and I'm very excited about starting this new stage of my career with HRC, whom I wish to thank together with CWM LCR Honda Team. I'm looking forward to working with them! In the meantime, I remain fully focused on this season's Moto3 World Championship. I will have to avoid any distraction in order to fight for the title."
Miller had apparently already signed a deal with the Marc VDS team to ride in Moto2 next season, but once rumours of a MotoGP ride emerged, Miller adamantly denied anything had been signed. With the threat of court looming, Miller and his personal manager Aki Ajo managed to resolve the problem, and it is now clear why Miller turned down the Marc VDS team. 
LCR team principal Lucio Cecchinello had been quite public in admitting he hadn't negotiated with Miller, and that all the negations were taking place between Miller and HRC. Despite it all going on over his head, he has however welcomed Miller into his team with open arms. 
"Without any doubt, this is a very exciting project and a completely new challenge for us," said Cecchinello.
"We do believe that Jack will be a future strong performer in the premier class due to his undeniable talent, motivation and drive.
"Together with Honda we will do our best to let him familiarise himself, step by step, with the MotoGP class. For sure Jack will need time to learn how to ride a 1000cc machine but there is no rush, and next year will just be a learning season for him in the new Class."
Despite receiving messages of support, some riders have said they don't think Miller is making the best move by bypassing Moto2. One of the riders that has showed concern at Miller's decision is Valentino Rossi. The nine times World Champion said he thinks he should follow in the footsteps of Marquez and Espargaro in using Moto2 to get used to the speed difference. Brad Binder has also had his say, saying: "I like Jack a lot, he is a great rider. But I am convinced that this is not a good idea. The jump is too big. But maybe I'm too old-fashioned."
Whilst everybody will have an opinion on Miller's move, the Australian has backed his ability, with a chance like this too good to turn down.
"Everybody is entitled to their opinion but I believe in myself, I'm not stupid and I know I can do a good job. And I also know I am not the next Marc Marquez, no one is," he said.
"Given time I can handle switch to MotoGP — it's just a motorcycle with two wheels, a throttle and brakes."
Honda's three year contract is the longest one they have given out to a rookie, with Valentino Rossi and Marc Marquez only given two year deals as part of their rookie contracts. Honda will be hoping that Miller can eventually emulate the success of some of his compatriots on a Honda such as Casey Stoner, Mick Doohan and Wayne Gardner.
Whilst there is no confirmation, Stoner's former crew chief Christian Gabbarini will be Miller's crew chief next season, not Jerry Burgess as some rumours in the Italian press suggested last week.