Miller looks set for MotoGP move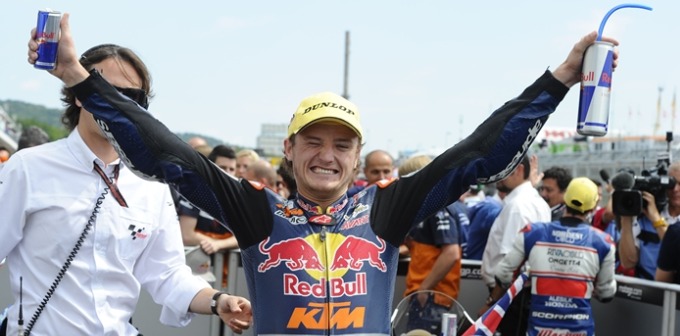 Current Moto3 Championship leader, Jack Miller looks set to make the move to MotoGP next season, as Honda look to tie him up.
The 19 year-old Australian has enjoyed a break through season in the Moto3 class, and has seen his stock has rise so highly, that it has seen him heavily linked with a move to the MotoGP class, with Honda taking a liking. Rumours begun that HRC were targeted Miller as the man to join the LCR team, to replace Stefan Bradl for 2015, with the German failing to meet the targets set out to him by HRC. 
The move did however look in jeopardy a couple of weeks back, when the Marc VDS team claimed they had Miller bound to a binding contract to race with the Belgian team in Moto2 for 2015 and 2016. But the latest rumours suggest that Miller, and personal manager, Aki Ajo, have found a way out of the contract, and free to join HRC. (Even if HRC do have to foot the bill to Marc VDS for Millers contract) 
With rumours building by the day that Miller would make the move up to the premier class, today Repsol Honda team principal, Livio Suppo all but confirmed the deal will happen imminently.
"Jack Miller? To my knowledge, he has signed with Honda," Suppo told GPone.com. When a man with the power in the paddock like Livio Suppo says that, you could usually take it as a done deal.
However Miller's potential new team boss, Lucio Cecchinello was less clear when asked if Miller's future lies with him or elsewhere. 
"We would like to run two bikes, but we have yet to verify the funding package. An 'Open' Honda would be more suitable for Miller, because he would gain experience without problems.
"For the moment, however, I have not spoken with him, because his situation, from the point of view of contracts, is unclear. Marc VDS claim to have a written agreement with him for 2015 and 2016. Jack says he is free.
"Of course if HRC came to me and said: We've signed with Miller, I am open."
Cecchinello obviously mentioned the 'Open' machine there. Could Gresini be the team Miller ends up in? Honda did say that they intended to only keep four customer machines on the grid in 2015, and with Aspar securing two of them, and Gresini and Cardion AB with the other two, could it be unviable for LCR? 
With Redding hoping to move up, and onto Bautista's full factory RC213V next season, a year on Redding's current Honda RCV1000R would be the logical and best step for Miller. A chance to adapt from a Moto3 machine to a MotoGP bike rather than jumping straight in the deep end.
There are lots of people voicing their concern about Millers potential move. Earlier in the week Valentino Rossi said he thinks Miller should go to Moto2 first, and now current MotoGP World Champion Marc Marquez has echoed Rossi's thoughts. 
"If you feel ready, you can do it. But it's better to fall in Moto2 than in MotoGP," said Marquez. 
One team that doesn't look like they will be signing Miller is the Tech3 Yamaha team. Team owner Herve Poncharal said that the jump from Moto3 is a huge change and a big step.
Speaking with Speedweek.com, with his IRTA presidents hat on, Poncharal said: "This is a huge change. But the three best Moto3 riders are top riders. It is a great leap… A big step; maybe it's not ideal, but if you're a top Moto3 rider and get such an offer, you think about it. 
"In my opinion you can certainly try Jack Miller in MotoGP. I am not claiming that I know everything, but we will see. Maybe it turns out to be big mistake. Maybe it works, to some extent."
If Miller does make the move to MotoGP, he will be the only Australian in the class after Bryan Starring left the Gresini CRT project at the end of 2013.