Jack Miller discusses MotoGP switch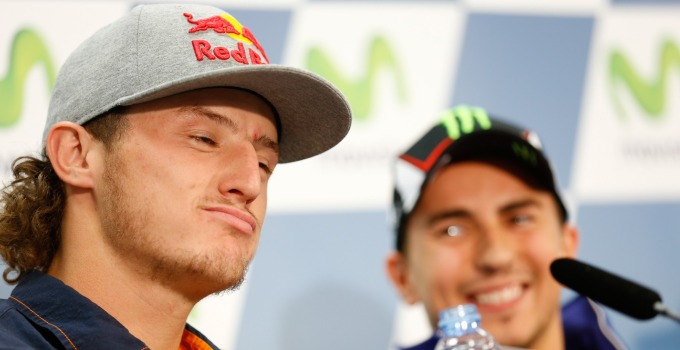 MotoGP bound Jack Miller has discussed his impending move to MotoGP during the pre-race press conference in Aragon.
19-year-old Miller currently leads this season's Moto3 standings by nine points ahead of Alex Marquez, but the subject on everybody's lips in Aragon was Miller ride for next season. Today marked the first time Miller has spoken in public, since his move to LCR Honda for the next two seasons.
"Of course I'm over the moon to have this opportunity," said 'Jackass'.
"I'm sure there are plenty of question marks, but Marc [Marquez] was a lot lighter and smaller than I am now. So physically-wise I think I can ride it.
"But I've only been on a road bike since 2009, not very long. So to be thinking I'm going to MotoGP next year is a big step. It's a long-term period that I've got and I believe that with the time and with the right attitude anything is possible. It's a motorbike. It's got two tyres and an engine. We'll do our best."
Miller will become the first rider in over ten years to make the jump directly from the smallest class, to the premier class of Grand Prix racing, and this decision has caused lots of discussion. Many people have criticised the decision, including Valentino Rossi who today said: "I think taking the right amount of time will be the bigger challenge for Jack. It is very easy to say now that he has time and can arrive in MotoGP quiet, but when you are on the track you always want to arrive in front and give the maximum."A
Miller however, is happy with the path he is taking.
"Everybody has their own way," he said. "All the guys here were very successful in the middle class and maybe I'll miss out on that. But for me, my goal is to go and ride with the best in the world and if you get handed that opportunity why not take it? I saw the opportunity and thought why not?
"Sure I'll miss out on riding a 600. A bike similar in weight to MotoGP with less power and electronics. And a lot of experience as well. But I'm hoping that what I lose there, I gain by doing two years learning in MotoGP."
Miller also revealed he had been in discussions with Honda since Le Mans, way back in May in just the fifth round of the season. Whilst most of the paddock knew of the talks between Miller and HRC, nobody expected, official talks to have been going on for that long.
"It was a while back, I'd say around Le Mans was when we seriously started thinking about it. Maybe a little after.
"I'm 99% sure the first ride is at Valencia and I'm 99% sure I'll be hitting the brakes at the finish line!"
Miller understands that the jump from a Moto3 bike to MotoGP will have physical demands as well as the step up in level of competition, and despite not having a chance to do any preparation before his Valencia debut, he will be ready for Sepang in February. 
"I'm going to have to try a lot, to go from an 80kg bike to 150kg. It's a big step. For sure physical training is the main thing. Try and put on muscle. But it looks like I'll be riding one after another [at Valencia]. Straight from Moto3 to MotoGP. I don't think I can put that much weight on overnight so we'll see what happens!"