Eugene Laverty to Aspar Honda not official… yet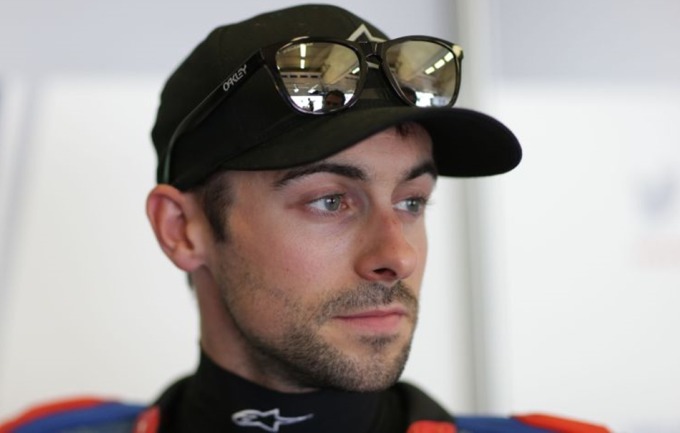 Eugene Laverty will be a MotoGP rider next season after his Voltcom Crescent Suzuki World Superbike team confirmed via a press release he would be leaving them to move to the Grand Prix paddock, with Aspar Honda waiting. 
Laverty has been very vocal in his desire to move to MotoGP and has attended the past three Grand Prix's in a bid to secure a ride in 2015, holding talks with Forward Racing, Pramac Ducati and Aspar Honda. Whilst no deal has been announced officially, it is now thought an agreement has been found with Jorge Martinez Aspar and his Honda team.
Aspar has Nicky Hayden signed up already in 2015 as he enters the second year of his two year deal with the Spanish team, and Dorna are thought to be wanting Aspar to match Hayden with Frenchman Loris Baz. However, Aspar says the Frenchman is too tall, and has turned down the chance to sign Baz. Aspar has also turned down Nicky Hayden's current replacement rider, Leon Camier, due to the same reason as the Frenchman. He has instead gone for the Irishman. 
Today's press release from the Cresent Suzuki squad confirmed that Laverty would be on his way, and with Redding's future now resolved it appears that all paths are clear for Laverty to join on a permanent basis after signing a proposal with the Aspar team, with the prevision being the ride on the production machine would be his, should Scott Redding not join the team and take the second seat. 
The 2015 production Honda will be a considerably better package than what Hayden, Redding and the other production riders are currently being provided with. HRC are understood to be annoyed with Yamaha leasing their engines to the Forward team, with their understanding that the open class would be new, more affordable motorcycles that would be purchased, not engines or bikes leased like the current satellite sides do. In response to this, next season's production bike is thought to be pretty much the same spec as this seasons RC213V, including a pneumatic valve engine, but they will be without the seamless shift gearbox that helps the factory boys so much. 
Laverty admitted to MCN in Silverstone that Aspar's desire to sign him was a key point in his decision making ahead of the 2015 season. 
"I had a really good conversation with Aspar and that is my preferred choice," he said. "I didn't know them until Brno last year and we sat down with Gigi (Dall'Igna) when the plan was to go with them at Aprilia. And then that all fell apart when Aspar decided to go with Honda. But because we had some good chats and Aspar were really interested in me, they are still keen."
You can find todays release from the Voltcom Cresent Suzuki press conference below the jump
---
Voltcom Crescent Suzuki extends its thanks and best wishes to Eugene Laverty as he prepares to move to the MotoGP Championship for the 2015 season.
A motivated and technically accomplished racer, Laverty has so far added two podiums to his Superbike tally this year taking his achievement to 33 to date – including a dramatic win on board his Yoshimura-powered GSX-R in the season opener at Phillip Island – and remains focused in his objective to remount the rostrum before the year draws to a close.
The Irishman will relocate from the eni FIM Superbike World Championship at the end of the 2014 season after six successful years in the production class paddock in both World Supersport and World Superbike competition.
Eugene Laverty:
"I'd like to thank everyone at Voltcom Crescent Suzuki for all their efforts this season. They're an incredibly hard working team and we share the same desire to win. We started the year fantastically with a win first time out at Phillip Island, something nobody expected us to do. Even if the results haven't always come our way, I've really enjoyed working with the team and the GSX-R, there is so much potential there. We still have two rounds remaining and my aim is to climb back up on that rostrum before I move to MotoGP in 2015."
Paul Denning – Team Manager:
"We wanted to move forward with Eugene into 2015 but at the same time we completely understand his desire to compete in MotoGP. He has been a pleasure to work with and, even though a black cloud of bad luck seems to have followed us and the consistency of results has not been what we both hoped for, Eugene has given us and Suzuki some very special moments including of course the victory at Phillip Island.
"It is positive to see a skilful, intelligent Superbike rider's abilities recognised by a strong MotoGP team and all at Crescent, title partner Voltcom and Suzuki wish Eugene the very best of luck in this next stage of his career. We are looking forward to the last two rounds together; let's hope we can finish this season with Eugene as strongly as we started!
"Voltcom Crescent Suzuki is committed to building on 2014's potential shown in 2015, and to fighting for victories in the World Superbike Championship. Our rider line-up to allow us to achieve those targets will be announced in the near future."