Could Chile host MotoGP from 2016?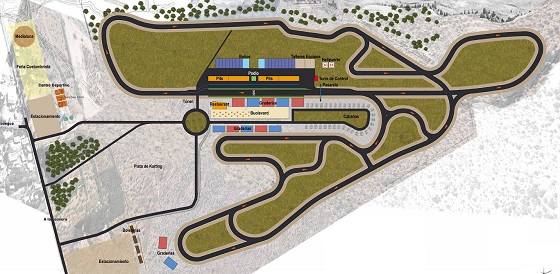 Could Chile become the latest nation to host a MotoGP race from 2016? 
Dorna are looking to continue to grow the sport, and move more races away from the traditional European base, and get the sport out to all corners of the globe. With Brazil set to feature on the 2015 calendar, and the huge success of this season's Argentine Grand Prix, the championship organisers are now considering a third South American event. 
The track Dorna are looking at is the Codegua International Speedway. It is located around 18 km northeast of the city of Rancagua, and 72 km south of capital city Santiago. The track is 4.6 km long, and is 13 meters wide, growing to 16m on the main straight. They have recently built a new pit area, including a six-story control tower, VIP facilities, media room and accreditations boxes.
FIM representatives, including Javier Alonso (Dorna's Managing Director), Franco Uncini (MotoGP saftey officiator), and Antonio D'Angelo visited the site, and met withAIC track officials, including Juan Pablo Morales, the track architect, in order to check the facilities and make notes of any amendments required to ensure the circuit can meet the high standards of World Championship Motorcycle racing, and ensure Chile can host MotoGP.
"This is great news for the country. Chile has the great opportunity to host MotoGP, the world's most important motorcycle World Championship," Antonio D'Angelo told www.terra.cl.
"We are very pleased to have the option of bringing a world-class event, one comparable to Formula One or FIFA World Cup."
The plan of attack is to have a World Superbike round there in late 2015, probably in October to ensure that the track has all of the infrastructure and capabilities to host the event. If the Superbike event is an success, then in early 2016 the inaugural Grand Prix de Chile Repúblcia to be part of a Latin America triple header in March/April. 
On this visit Javier Alonso, said that Chile will soon have on your calendar for the World Superbike and MotoGP October 2015, with the "Grand Prix de Chile Repúblcia" March or April 2016.