Dorna want Baz on Aspar Honda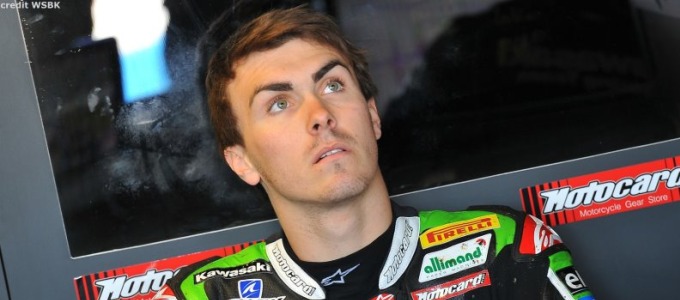 MotoGP Championship organisers want Loris Baz in MotoGP, and have eyed a seat in the Aspar Honda team as the landing spot for the talented Frenchman.
Baz is currently in fourth place in the World Superbike Championship, and after a collision with team leader and reigning world champion Tom Sykes has become a less than popular character on Sykes side of the garage, and has not has his contract renewed. Dorna also see Baz as the Frenchman who is most commercially appealing, as well as being talented enough, and young enough to adapt to Grand Prix bikes after growing up on production machines, with the current Frenchman in MotoGP, Mike Di Meglio, not doing enough.
Dorna have targeted the Aspar Honda team, and one of the two Honda RCV1000R's the team runs. Aspar currently runs Nicky Hayden and Hiro Aoyama, with Leon Camier standing in for the injured Hayden. Nicky Hayden has a contract already signed for 2015, and Hiro Aoyoma has nothing, as of yet. However, it may be possible Aoyoma kept over Hayden, who's contract can be exterminated due to health issues. 
Martinez had held discussions with Aprilia over becoming their official team, but Gresini has now become the team that Aprilia will return with.  Aspar has also held discussions with Eugene Laverty, Johnny Rea and Tom Lüthi over a potential ride in 2015, however it looks as if Dorna may be the deciding factor for the rider line up.
Dorna want a Japanese, American and French all in MotoGP, and with races and not great television ratings, Dorna are keen to get riders closer to the front in 2015 to generate interest in Motegi, America and Le Mans.
They are understood to be choosing Honda, because after the embarrassment they have suffered in the open class this year, at the hands of the leased Yamaha for the Forward team, next year they will be offering teams a 2014 RC213V, minus the seamless shift gearbox rather than the custom made production racers.
With Honda being the preferred machinery, Aspar is the only viable location, with Jack Miller tied up at LCR alongside Cal Crutchlow, and Karel Abraham not being replaced in his own team. 
The decision may end up being a short sighted one however. If Dorna are looking to generate more interest in France, they may want to promote the smaller classes further. Next season will see Fabio Quartararo enter the fray in Moto3, and the 15 year old will enter the championship as a double CEV Spanish Moto3 champion, lapping faster than the Moto3 Grand Prix boys in Catalunya and Aragon.