Marquez rides his Honda RC213V through London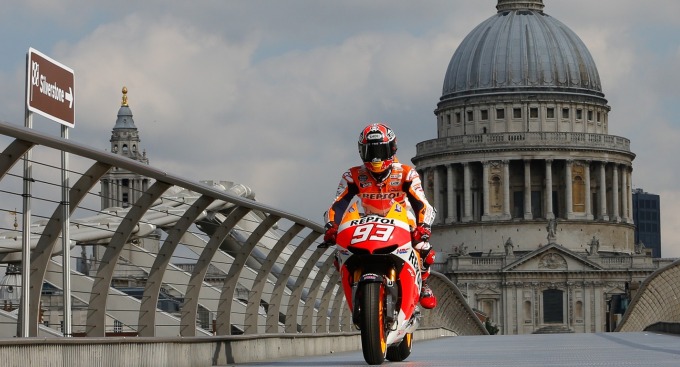 Reigning MotoGP World Champion Marc Marquez took his Repsol Honda RC213V for a spin in central London, and across the river thames, this morning. 
The stunt which was organised by British broadcaster BT Sport saw the World Champion disrupt commuters travel to work, with Marquez taking the Millennium Bridge, a pedestrian footpath bridge, over the Thames, before doing some burn outs and thrilling fans who had stopped by and shown their support.
"I was not really fast because it was windy!" said Marquez afterwards. "Honestly, I tried to do a small wheelie but it was too windy and it was tight, so I said 'ok'…"
"This event was really important for MotoGP ahead of the British Grand Prix and we were very lucky with the weather – I normally expect rain in England"
With the weather staying fair, and with the amount of fans that come out, Marquez really enjoyed the historical stunt, and did the best he could to treat the fans.

"So to be here in the centre of London on such a bright day, riding over the River Thames and making history was a memorable experience. The slippery metal surface of the bridge did not make it easy, but I went as fast as I could," he said. 

He also revealed that it's his first time riding on the 'road' as it would've been technically illegal as he doesn't own a road licence!
"I've never ridden on the road, I don't have a license," he said!
It was a similar stunt to when then World Champion Jorge Lorenzo took his Yamaha M1 for a practice start outside the Sagrada Família in Barcelona back in 2011 and when Stefan Bradl took his LCR Honda RC213V for a ride down famous San Francisco street, Lombard Street in 2012. 
Marquez was at the press event in London, and was joined by the majority of British riders ahead of this weekends British Grand Prix at Silverstone, with practice commencing Friday morning.