Marquez denies Moto2 race in Valencia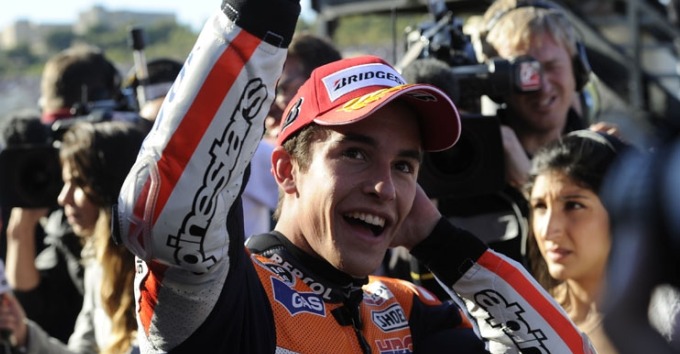 MotoGP World Champion Marc Marquez has denied he has plans in place to race both the Moto2 and MotoGP races at the season finale in Valencia, although the Spaniard refused to completely rule out the possibility of racing in both classes.
The 21 year old currently leads Dani Pedrosa by 77 points in the MotoGP World Championship standings, and despite potentially having his second successive MotoGP crown sewn up by the final round of the season, the two race Sunday isn't something that the 2012 Moto2 World Champion is seriously considering. 
Rumours of the ride emulated from Spain back in June, and since then the speculation around the paddock hasn't died down, further fuelling speculation that Marquez may indeed be prepared to put on a show for the fans at the season finale by racing in both classes.
However, Marquez has now denied that there are plans in place for him to race in the Moto2 race as well as the MotoGP race, claiming there is only a "five percent chance" he will race in both races. 
"I say there is a five per cent chance because I do not close the door completely," said Marquez when asked by MCN.
"But it is virtually closed. It is something I would like to do in my dreams but right now it is impossible. And maybe Honda wouldn't be so happy because Moto2 is a really tough class and you can be first or 20th. We can close this chapter because I won't do it and I will focus only on MotoGP."