Rins to Pons; Marquez to Marc VDS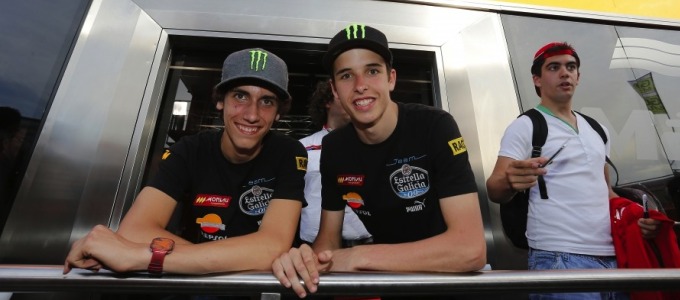 Have two of the hottest Moto2 prospects made their decisions for 2014? Well according to reports in Spain both the Esrella Galicia 0,0 riders have made their decisions for 2015. 
According to Marca, Alex Rins has decided to join the Sito Pons team, and his team mate, Alex Marquez has agreed to sign for the Marc VDS team.
This is a change to what many people expected, with Rins understood to be closer to Marc VDS than Marquez. However, Sito Pons is understood to have acted swiftly once he found out that Maverick Viñales would be leaving after just one season to join Suzuki in MotoGP. Pons is thought to deem Rins more ready to make an immediate impact than Marquez, and Rins was happy to sign being promised the highest level of support from a bike which has won races in the last three years.
Marquez, on the other hand, is happy to be joining close friend Tito Rabat in the Marc VDS team. There had been speculation that Marquez was ready to sign for the Aspar team on a Suter chassis, the same chassis his older brother Marc won the 2012 Moto2 title with. But those rumours haven't amounted to anything, with Marquez looking set to end up on the much more dominant Kalex chassis.
Whether Marc VDS remain a two man team, or expand to a three man team remains to be seen. Tito Rabat is signed up for 2015 and should Mika Kallio decide to stay, then the Moto3 Marc VDS team would be ended, with a three man Moto2 team coming in for 2015.
This news will come as a hammer blow to Aspar and Italtrans who were banking on being able to lure one of the two Estrella riders in their sides for 2015 to mount a serious title challenge. With Fenati confirming his desire to stay in Moto3, Jack Miller looking set for MotoGP, and Luis Salom and Jonas Folger both one year into two year contracts in Moto2, there is a lack of young title contenders in the market for them. With this news Franco Morbidelli and Nico Terol – who will be absent from the British round due to a mysterious muscle fatigue illness – are both expected to sign contract extensions for 2015 with the Italtrans and Aspar teams respectively. 
Marca also say that should Millers talks with HRC break down then he would receive an offer from Aprilia to partner with Marco Melandri or Alvaro Bautista on their "factory" machine for 2015.