Suppo: Marquez seems unbeatable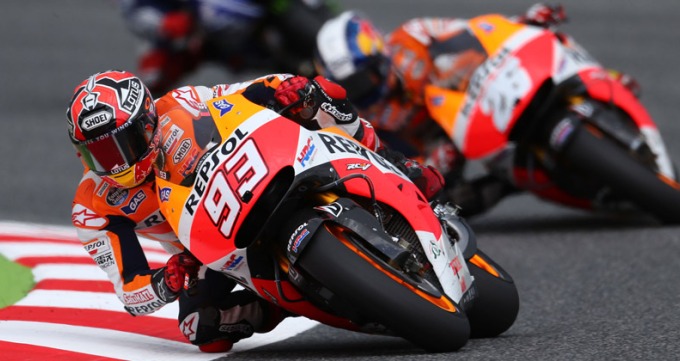 HRC manager Livio Suppo has said his man, Marc Marquez, seems unbeatable this year after his record breaking start to the 2014 MotoGP season. 
The 21-year old has won all nine races thus far in 2014, and despite some close shaves in Mugello and Catalunya, he has remained unbeaten, writing his name into the record books. With Pedrosa currently sat second in the World Championship, it has been a perfect first half of 2014 for the Repsol Honda team.
"Marc does an incredible job," said Suppo talking to speedweek.com. "The first race surprised me the most, because he was injured, and had only three days of testing – the others had nine. Nobody expected that he would win. I myself was hoping for a podium or just behind it, but to win the race, was once again completely different. It was a very strong performance, and that has given him a big boost and given a lot of confidence."
"He has then made ​​no mistakes, and now he seems unbeatable," explained the Italian. Despite this Suppo remains real about Marquez' season. 
"Sooner or later it will happen that someone, due to certain circumstances, will be stronger than he is. Nevertheless, we must be very happy, with what he has achieved so far."
Suppo thinks, and hopes that the main threat to Marquez' record will continue to come from his teammate, Dani Pedrosa. The Repsol Honda boss thinks that Pedrosa's arm pump issues have been the reason he hasn't been able to trump Marquez just yet. 
"I think Dani was strong early in the season, then his problems with his arm slowed down. Since the surgery, he has been very consistent and fast. He will make sure his fans have a lot of fun until the end of the season."
Suppo went on to say that despite winning every race so far this season, the motivation in the team for success is as high as ever, with winning only motivating them more.
"The more you win, the happier you are and the more motivation you've got. It's much harder to stay motivated when things go bad," explains Suppo. "If it goes the way it is now for Marc, it's easy to motivate everyone and to be front runners. I think that is even simpler than for the team for the rider.
"The atmosphere in the team is very good, even with Dani . They are very good team-mates. That is why we have also extended with Dani, he is one of the top riders. On top of that he also has a good relationship with Marc and it's hard to find two such strong riders who can live so well together. We are very proud and very happy."