Marquez sees Pedrosa as biggest threat; Pedrosa seeks redemption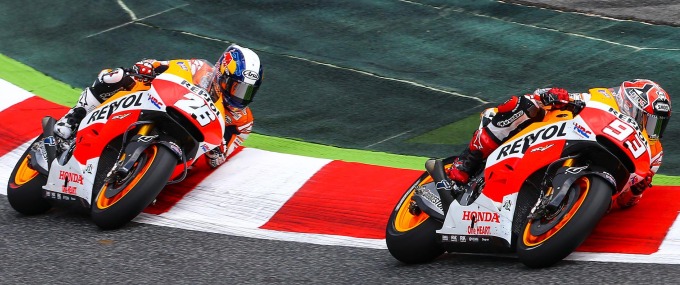 Record breaking MotoGP World Champion Marc Marquez thinks his biggest challenge this weekend will come from inside the team, in the shape of Dani Pedrosa as he hunts his ninth win from nine.
Marquez has a 100% record at the Sachsenring where this weekend's German Grand Prix will take place after taking victory last season, however last seasons victory was made a little easier due to the absences of Dani Pedrosa and Jorge Lorenzo who missed the race due to should and collar bone injuries respectively.
The World Championship leader will be hoping he can win with a full grid this team, and make it nine from nine as we then head into the summer break that signifies the half way mark in the MotoGP season.
"It was a tough and complicated weekend in Assen, but I was really happy to win a race under such tricky conditions," said Marquez speaking before heading to Germany.

"Now we have Sachsenring which is a nice circuit, but quite special as it's so small! Last year I had a good race but we must remember that neither Dani or Jorge were able to race so this year I look forward to racing them, especially as Dani is so strong at this track! 

"It seems the Honda is well suited to this circuit so we will look to make the most of this advantage" 

Pedrosa on the other hand is out to put amends to his problems from last year which severely hampered his chances of mounting a serious title challenge. 
Pedrosa returns to Germany where he won in 2010, 2011 and 2012 before last years DNS, level on points with Valentino Rossi, second in the World Championship (albeit 72 points behind Marc Marquez), after his Assen podium. He is now looking to build on his solid race at the Cathedral.
"It was a tricky weekend in Assen and in those kind of races, it's easy to lose many points in the Championship, so I'm pleased with our podium finish," said Pedrosa.
"Now we're heading to Germany where I had a disappointing weekend last year after being declared unfit to race due to my crash on Saturday. 

"I always enjoy racing at Sachsenring and finding the right set up is critical – especially as you spend a lot of time on the left, but the fastest corner is to the right, so tyre performance will be key. I'm looking forward to getting there to make up for missing last year!"