Suppo says it's too early for contract renewals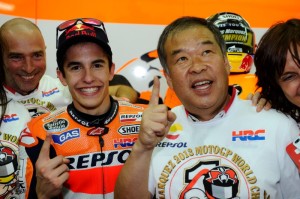 Repsol Honda Team Principal Livio Suppo has said it is too early for contract renewals in the wake of rumours Marc Marquez is set to extend his stay with the Repsol Honda team.
With Marquez' contract with the Repsol Honda team expiring at the end of the 2014 season, speculation is rife that he has is in the early stages of negotiating a new deal with HRC.
Fuel was only added to the fire when after his victory at the Circuit of the Americas on Sunday, he told Catalan radio that he hoped to extend.
However, Livio Suppo has come out, and said that there is nothing in place as of yet, although HRC are extremely happy with Marquez (there's a surprise, eh!)
"Marc likes Honda and we like him, but it's really early to speak about a contract," Suppo told the official MotoGP website.
"My feeling is that it will be natural sooner or later, but at the moment nothing is done. If you think there are really negotiations going on already, well there are not.
"Our priority is to keep him on board and his priority is to stay with Honda, so that's the situation," he added.
"It's only the second race of the year so it's really early to speak about negotiations. Of course with Marc he is young, he is a Honda rider and we would like to keep him for the future but real negotiations have not started."