Dominique Aegerter to Forward Racing in 2015?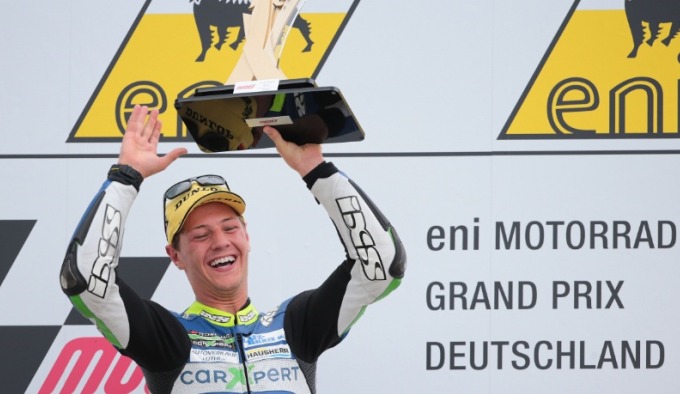 Dominique Aegerter would be open to a move to the Forward Racing Yamaha in 2015, as long as it was on a two year deal, not just for a single season.
The 23 year old Swiss rider has been enjoying a successful season, and a win at the Sachsenring just before the summer break capped off a superb start to the season. The start of the season has also raised his stock, and risen the interest of MotoGP teams in acquiring his services.
With only really the second Tech3 bike yet to be filled for next season, Aegerter's best chance of a MotoGP ride looks with a Open class bike. With Scott Redding looking like he will be promoted to the full RC213V, his production Honda should be available, but the most likely and desirable open bike will be the Forward Yamaha next season.
With Aleix Espargaro moving to Suzuki and Colin Edwards retiring, there will be two open seats in the Italian team. Stefan Bradl, Bradley Smith and Simone Corsi have all been linked with the vacant seats in recent weeks, showing the appeal of the Forward bike.
This season's Forward bike is last season's Yamaha M1 engine leased from the factory, inside a leased chassis with the standard electronics. Forward will keep a similar package together next season, but they will be using their own frame rather than continuing to lease one.
"I don't know exactly, what are the prospects for each of the MotoGP teams," Aegerter told speedweek.com before heading to Japan to compete in his first Suzuka eight hours. "My manager Robert Siegrist takes care of that.
"If a team just want 19-year-old talent, then that's their business. We'd then have to look elsewhere."
Despite being a prominent rider on the Moto2 grid, he isn't totally sure he will make the move. It all depends on what offers he gets for next season.
"We have not totally decided if I'm going to do Moto2 again in 2015. We look at what is the best solution. Robert Siegrist gets offers from everywhere.
"If we do not get perfect MotoGP offer, we'll ride again in Moto2."
Aegerter does have some MotoGP experience under his belt. The Swiss rider tested the Avintia Kawasaki in the Barcelona post race test last month. Whilst the Ducati Avintia will be an option, its the Forward Yamaha that attracts him.
"Yes, that certainly wouldn't be bad, but we need to look. If it were only a one-year contract, it wouldn't be enough. Two years would have to be offered."
The other rider who has been linked strongest with the ride is Stefan Bradl, a rider that Aegerter doesn't have a problem with, and somebody who Aegerter thinks he can learn from.
"For me, it really does not matter who your teammate is. Stefan is certainly an experienced MotoGP rider. I could certainly learn a lot from him."