Forward Racing release 2015 bikes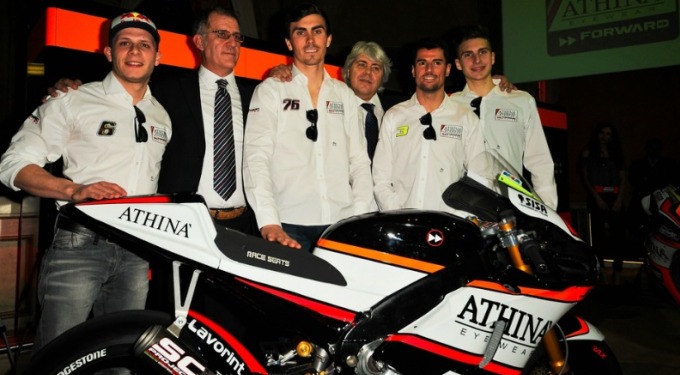 2014 Open Class World Champions Forward Racing revealed their 2015 MotoGP and Moto2 machines to a pack II Gattopardo Cafe in Milan last night, confirming Athina Eyewear as their new sponsor. 
Forward, who have ended their partnership with NGM as title sponsor come off a successful year, in which they won the inaugural Open Class, with Aleix Espargaro at the helm. This year it is a new title sponsor, and a new rider line up, as the Italian outfit looks to improve on a stellar 2014.
This year will see Stefan Bradl partnered by Loris Baz in the MotoGP class, whilst Lorenzo Baldassarri will join the only remaining member of 2014 in the shape of Simone Corsi in Moto2. The MotoGP bike will be a Yamaha, much like 2014, and the Moto2 machine will run a Kalex chassis, both backed by new sponsor Athina. 
"I am proud and happy to present Athinà Eyewear which, together with AF Invest, will be the new title sponsor of our MotoGP and Moto2 team," Forward chairman Giovanni Cuzari, who was on hand to present the event lat night, said.
"Athinà Eyewear is a very ambitious Swiss start-up, which, together with AF Invest, has decided to give itself visibility through the World Championship with a very important project consisting of a three-year sponsorship. 
"New challenges await us together with our new partners, but I cannot forget who allowed us to get there by supporting the team during the last three years. I'm referring to Mr. Stefano Nesi of NGM Smartphone. Thank-you very much for the past support and trust and thank-you for the backing that you are still providing us for the future. "We shared our ambitions and together we have achieved important goals. We are and we will stay ambitious, in MotoGP our goal is to win the Open class title again with Stefan and Loris, while In Moto2 we are lining-up two Italian riders to compete with the world bests, convinced that with this working group we can aim even higher."
Bradl leaves HRC for the first time since joining MotoGP, and is happy about his team for 2015.
"I am very pleased to have joined the Forward family and I am excited about this new adventure. For me the goal is to achieve the Open title. The team is all new for me but I think I can adapt well to the bike, the last test in Malaysia have shown that we have a good pace and now we have to improve the flying lap time. I look forward to the start racing again in Qatar."
Moving from Honda to Yamaha, Bradl has had to adapt his riding style to favour the strengths of the Yamaha, and this is something he is still struggling with when attempting one quick lap.
"The biggest problem is when you go onto soft tyres, or tyres or try to do a succession of quick laps, you sometimes fall into your old style, and it needs to become nature to not do that," he told GPxtra at the launch. "You need to be able to use the strong points of the Yamaha, automatically, especially with the new tyre. 
"This is the problem for me at the moment; I sometimes fall back into my old style. But these are things I need to learn."
Whilst Bradl is having to adapt from a RC213V, Loris Baz is having to learn after joining from the World Superbike paddock, and this is something, that the past has told us is no easy feat.  
"Considering that I come from the Superbike I must say that the first impact with the MotoGP was positive, at first it was a little hard to find the position on the bike but I have been training a lot to prepare for this new challenge," explained Baz.
"I cannot wait to reach Qatar and to go back on the track for the first race and fight with the world top riders. A big thank you to the team for giving me this wonderful opportunity."
When asked to elaborate on what the differences are when riding a MotoGP bike compared to a World Superbike, Baz gave the three main changes he's had to change.
"You have to use your body much more, to turn the bike. You have much more corner speed, and a higher lean angle. These are the three main differences, and they all mainly go together. We've reduced the gap to Stefan day after day, so I'm happy."
Photo credit Forward Racing