Jorge Lorenzo to sign one year Yamaha deal soon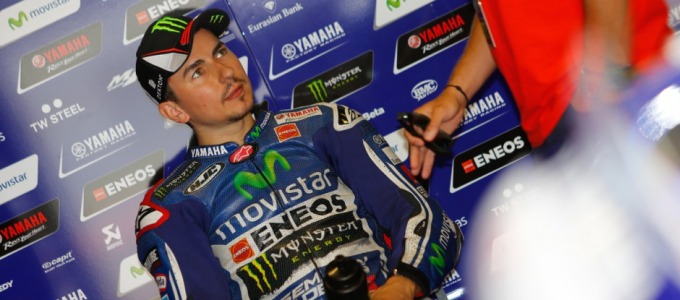 Jorge Lorenzo will sign his contract extension with the Movistar Factory Yamaha team in the coming weeks, but he will only be signing a one year deal.
Lorenzo insisted that the contract from Yamaha be a one year one, with an option of a second year extension for 2016. Yamaha were initially reluctant to offer Lorenzo a contract on these terms. They wanted him secured on a two year deal, and had there had been a two year offer on the table since 12th June, the Thursday before the Mugello Grand Prix.
However, after weeks of negations and waiting, Yamaha have finally given in to Lorenzo's demands, despite his options apparently limited to just Yamaha after the announcements of Pedrosa and Crutchlow in Honda and Ducati respectively. 
A deal is 99% complete and could be announced at the beginning of August according to a representative of Lorenzo's, who was speaking to motocuatro.com. Lorenzo will be in California with Lin Jarvis for the annual filing of the Yamaha riders visit to Yamaha America HQ, and it is understood a deal could be signed and tied up over those days. 
Whilst the details of Lorenzo's contract haven't been announced, the representative did say, "the agreement is completed, with a slight increase with respect to what he is earning this season." 
Despite Lorenzo's hard ball tactics over negations, his manager, Albert Valera, insisted that Yamaha was always Lorenzo's number one preference for 2015.
"Yamaha has always been our first choice," said Valera. "We have not lengthened the negotiations, expecting other offers, we just wanted to make sure the interest and motivation of Yamaha is to improve the M1, and we are satisfied with their efforts."
Along with a new contract with Yamaha, Lorenzo has had to negotiate new deals with three personal sponsors. His current helmet, leather and personal sponsorship deals are all also up for renewal in 2015, and he will have to agree new deals for those too. 
His personal sponsorship with Monster will seemingly fall into place once he officially renews the Movistar Yamaha team, of whom Monster are also prominent sponsors.
Along with a renewal with Monster, Lorenzo will renew his deal with leather manufacture Alpinestars of whom he has had a very good and close relationship with since moving from Dainese at the end of 2010. Despite the neither of those agreements being finalised, they are both expected to be done imminently. 
However, his deal with helmet supplier HJC is a lot less certain. Lorenzo switched from X-lite helmets at the end of 2012, and hasn't enjoyed the best of times with HJC, confronted with steaming issues in the wet on more than one occasion.
HJC are keen to retain Lorenzo after their only other MotoGP rider, Ben Spies, retired from MotoGP, and have offered Lorenzo a deal that has been on the table since the Austin Grand Prix way back in April, although it is understood Lorenzo is currently speaking to other brands and assessing all of his options before deciding who to use in 2015.