Aegerter closing in on Moto2 contract extension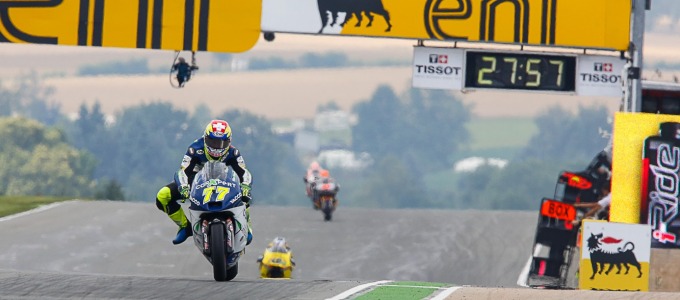 Dominique Aegerter is closing in on a contract extension with his current Technomag CarXpert Moto2 team, just a day after being linked with a MotoGP ride. 
The Swiss rider was just yesterday linked with a MotoGP ride in the wake of his Sachsenring win and good start to the 2014 season. Aegerter was linked to the vacant seats at Gresini and Forward, and was widely tipped to make the move up to the premier class of Grand Prix racing. 
However, his agent has today told speedweek.com that he is closing a deal to keep Aegerter where he is in Moto2. 
"We are nearing a contract extension with Technomag team," said Dr. Robert Siegrist. 
"Technomag-chief, Olivier Métraux, has supported Domi in the World Championship since his first 125cc Grand Prix in 2006. With Gilles Bigot, he has an excellent crew chief at Technomag. Domi needs this family environment. Because of this, I don't want to tear him out. 
"There was a request by Marc VDS Racing, but that would have been Domi behind Rabat, as the number two rider."
After his win in Germany, Aegerter finds himself fourth in the Moto2 World Championship. However, with Viñales moving up, and another years experience in the Moto2 class, Dr. Siegrist believes that Aegerter will be a genuine title contender next season, challenging and winning races. He thinks that experience will serve him better than battling for the last few points in MotoGP each weekend. 
"Domi can go back in the Moto2 World Championship  next year, and end in the top three, fighting for the title. This is more sensible than to ride in MotoGP with Forward or Gresini. Even if Domi finished ninth in the MotoGP class, it would interest the public for only three weeks, then the media presence would drop. I do not consider that as an option.
"I guess we can negotiate a better 2015 MotoGP deal after the season. And then, if we have one sponsor in MotoGP, it will be Technomag with Olivier Métraux," said Siegrist.
Aegerter is the top Suter rider in the Moto2 field, and his efforts havent gone un-noticed. Despite being extremely loyal to the Swiss brand. Aegerter and Siegrist have to think about whats best to ride, and that may be a Kalex chassis in 2015. Either way, Dominique is yet to definetly decide what chassis he would like to us in 2015.
"That will be decided by Domi the next two races in Indy and Brno. The problem is that new Kalex teams only get old 2014 chassis'. The difference isn't that big anyway."