Aprilia talking to Alvaro Bautista for 2015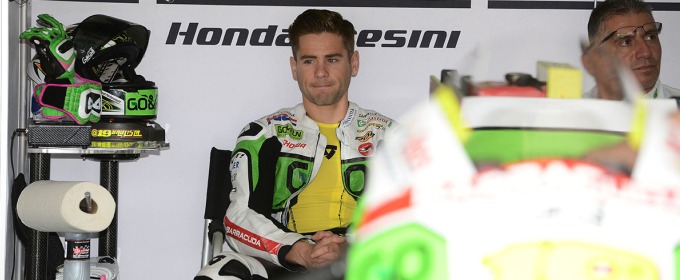 Aprilia are talking to current Go & Fun Gresini rider Alvaro Bautista about a two year contract with the Aprilia team.
Bautista is understood to be under pressure from HRC, and despite out performing LCR rider Stefan Bradl, there are rumours that HRC and Gresini are ready to go in a new fresh direction in 2015, with Scott Redding strongly tipped to take Bautista's seat, the Spaniard may have to find a new seat in 2015.
With Ducati not interested, and Suzuki apparently not wanting to resign Bautista, despite two years with them in 2010 and '11, Bautista has been left with a plethora of 'Open' options for 2015, with one of them being Aprilia.
Aprilia are returning to MotoGP in 2015, running their ART bike, with upgrades including a seamless shift gearbox and a pneumatic valve engine to improve on the current bike. They are then building a completely new bike in 2016 with the new Michelin tyres and standard ECU at the centre of the new bike.
"We take this into account," confirmed Aprilia racing chief Romano Albesiano talking to speedweek.com. "We are already in MotoGP with the offshoot Aprilia Racing Technology (ART). When we are back next year, under different conditions, with more commitment, we can not just sell motorcycles on a team and then wait to see what they do with it. Our image shows up in the results too much, in 2015 we need to be there if we want to improve. That's why we try to create conditions, where we can be more competitive than we are now."
The new bike has been tested twice already by Max Biaggi in May and June at Mugello, and the times are notably quicker, but due to a shortage of money in the IODA and PBM teams the updates won't arrive on the Grand Prix grid until 2015.
The Italians had hoped to go through this whole process with the Aspar team, but after the switch to Honda at the end of 2013, and Gigi Dall'Igna's subsequent departure to Ducati means that a re-structure of the move has had to take place. The new plans include taking PBM's chassis and putting the new ART RSV-4 engine inside it.
Along with speaking to Alvaro Bautista, Aprilia are also understood to be in talks with LCR's Stefan Bradl and Eugene Laverty who rode the RSV-4 in World Superbikes in 2012 and '13. They have also been linked with Bradley Smith and current WSBK rider Marco Melandri as they target two high profile riders for their development in 2015 and new bike in 2016.
2014 hasn't been a good season for Aprilia. Last season Aleix Espargaro was constantly in the top ten and finished top CRT bike. This season, with the Aspar team now running Honda's, only Danilo Petrucci, Michael Laverty and Broc Parkes are on Aprilia's, and between the three of them they have only scored ten points in the opening nine races, with Laverty yet to record a single point.
"We are not satisfied with the results this year," said Albesiano. 
"For better results, we need to be more invested. If a team does not have the money to pay for two riders and to complete all the necessary tests… If a team does not have the right riders… MotoGP is not a national championship. Aprilia has responsibility for MotoGP. 
"The more we engage, the faster our performance will improve. Do we believe that we should be factory here next year? Yes! How? Not like this year! We need to be more involved, with more engineers. We cannot accept results like this year, from an image perspective."