Forward Racing eyeing Stefan Bradl for 2015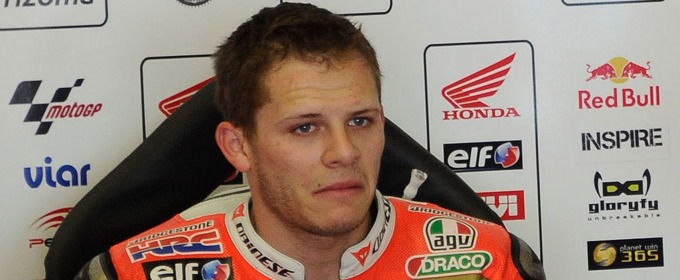 NGM Forward Racing are interested in signing German rider Stefan Bradl should HRC not extend his contract at the end of the 2014 MotoGP season.
The young German has expressed his desire to remain with HRC and LCR, but as of yet, Bradl hasn't received an offer of a contract extension with his current team.
Stefan Bradl was expected to be top satellite rider by HRC. They wanted Bradl to be ahead of Alvaro Bautista, as well as the Tech 3 duo of Smith and Espargaro and any Open class bikes. This unfortunately for Bradl has not happened. Bradl hasn't recorded a podium in 2014, and is the only Honda RC213V rider in that bracket.
Alvaro Bautista is expected to loose his ride despite his podium in Le Mans, and that was with a RC213V equipped with the supposed worse Nissin brakes and Showa suspension. Bradl has the same Brembo brakes and Ohlins suspension as the factory riders do, and hasn't managed to replicate the feat thus far. Indeed only one podium and one pole position in two and a half years isn't enough for HRC, with it looking likely he will be searching for a new ride in 2015.
Should Bradl not get a new contract, he will not have a shortage of potential suitors. He has already held talks with Dall'Igna Gigi and Paolo Ciabatti about a potential Ducati seat, although Bradl wasn't said to be interested in the Pramac ride he was being offered. He has also held talks with Suzuki and Aprilia, but the unknown quantities of both bikes is said to be making Bradl apprehensive about any possible ride. Bradl has said he is open to dropping back to the Moto2 class should the right opportunity not present itself, and has had offers from three teams with Kalex chassis, but the offer that may be the most appealing may be with the Yamaha Forward Racing team.
Owner of the Forward Racing team, Giovanni Cuzari, is a known fan of the German. With Colin Edwards retiring at the end of the season, and Aleix Espargaro rumoured to have signed for the Factory Ducati team, Cuzari will be looking for two new riders at the end of the season.
"I'm looking for a top ten riders," Giovanni Cuzari said in an interview with speedweek.com. "There have been some riders linked, but of course I'm interested in Bradl. I love the Germans! I had my first job in Germany… And in 2015 we will have more aggressive material than we do now."
The more aggressive material that Cuzari talks about is the new chassis that Forward are currently working on. They currently run a Yamaha chassis, with a 2013 M1 engine, minus the seamless shift gearbox. The new chassis is currently still being developed, but was tested in the post race test in Barcelona, and once again in the past weekend at the Sachsenring by Aleix Espargaro, who said the new chassis was good, but not quite as good as the current chassis, yet anyway. The new self built chassis, along with the soft tyres, extra engine allocations and more fuel that they are entitled to as part of the Open class leaves Cuzari confident his Forward team will be even faster next season. 
One factor that may tempt Bradl into the move could be old friends who are part of the Forward team. Electronics Engineer Dirk Debus and the former 125cc GP racer Manfred Geissler, who is Colin Edwards data recorder both know Bradl already, meaning any transition may be made easier immediately. But despite the links being there already, and Cuzari being keen, Bradl refuses to be drawn on speculation about where he may end up next season, simply insisting that he wants to stay where he is.
"I want to stay with LCR Honda. I've always said that I want to have the most competitive motorcycle that I can have. But I have received no positive signals from Honda. So I look around at other teams, that's not a crime. I will let myself go into the summer break, with all possibilities running through the head."