Crutchlow won't change his riding style for the Ducati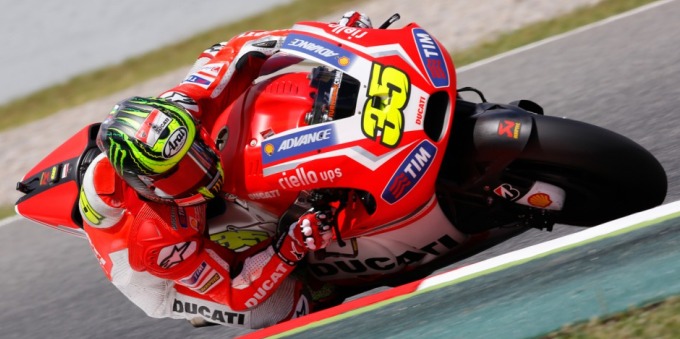 Briton's Cal Crutchlow has said he won't change his riding style to suit the GP14, as he expects next years bike is totally different to the one he is currently riding.
Crutchlow is making the adjustments since moving from Yamaha, and the adaptation to the GP14 isn't going totally to the Brit's plan. Crutchlow is currently sat in sixteenth place in the World Championship, with just 15 points, and despite missing the Argentine Grand Prix through injury, and having technical difficulties in Catalunya, Crutchlow finds himself 56 points behind teammate Andrea Dovizioso.
Despite the Ducati remaining uncompetitive despite taking up on the offer of the open class this year, Crutchlow knows that his job this season is to gain data and build experience on the bike, with no major upgrades coming from Bologna this season. Then with all the data, Ducati are hoping under Gigi Dall'Igna's stewardship, the GP15 will be the bike to get Ducati back on the rostrum.
During the post race test in Catalunya, Crutchlow ended the day 1.725 seconds off of Marquez' time which was good enough for just 13th place, but he then spoke to GPone about his Ducati experience thus far.
"There is only a certain amount of information you can give, and a number of times in which you can give it," admitted Crutchlow in his usual honest manner.
"It sure seems strange to me, but I've already said the same things back in November, and the bike has improved a bit since then, but it still has the same problems. I know I will get nothing by the end of the year, so it doesn't make sense for me to keep asking for updates."
When asked about if it may be him more than the bike with front row starts for Andrea Dovizioso and Andrea Iannone this season, Crutchlow replied with: "I will not change my style to fit this bike for only one year. What if next year the bike is completely different? It's best that I learn to ride to maximise the speed through the corners and getting out of the corner fast, but on this bike, that doesn't work.
"But it is hard to stay motivated. Every weekend I have the same goal. My task is not on the bike, but to give the right information. Iannone and Hernandez are riding to the limit because they also need to find good information, this is not to say that they are not riding better than me, but I don't need to risk like them to get the same information, that I've already given."