Pedrosa expected to stay with HRC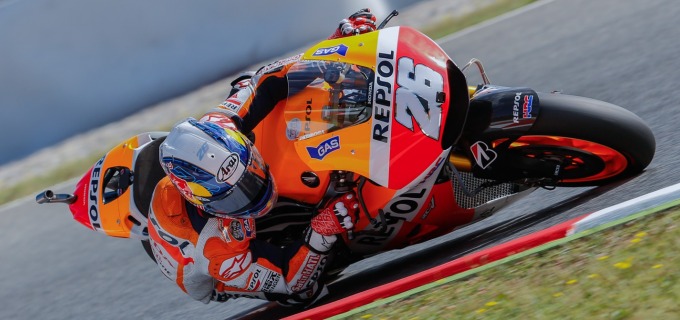 Dani Pedrosa is expected to sign a two year contract extension with HRC in the coming weeks, extending his stay with the Repsol Honda team into a ninth and tenth year.
The Spaniard has been with HRC since he made his debut in MotoGP back in 2006, and there was speculation that his time was coming to an end with him still yet to win a world title in the premier class of Grand Prix racing.
However with Marc Marquez dominating the Championship, HRC have apparently decided that Pedrosa in an extremely competitive support role would be a better option, believing that there is nobody faster, who would be happy alongside Marquez rather than thinking wanting to be the number one rider.
Speaking to MotoGP.com, HRC team boss Livio Suppo said he hopes a deal in going to be confirmed soon.
"For sure, we will speak with Alberto (Puig)," said Suppo. "Of course, the priority for Dani is to remain here and the priority for Honda is to keep him here – and that is what we have to do. Now we will go ahead, but there is no rush."
There are rumours however that the hold up over a new contract is over wage demands. Rumours in the paddock suggest that HRC are asking Pedrosa to take a substantial pay cut in order to keep his seat on the other side of the garage from Marquez.
However when asked by MCN, Suppo refused to be drawn on speculation over Pedrosa's potential new contract.
"That is gossip. The reality is that we believe the best team possible is to keep Dani on board. He's said Honda is his first priority and he is the same for us. He still remains one of the top guys and I don't think it is possible to find somebody stronger than Dani at the moment.
"Dani hasn't won a title but he has always fought for it and won races. Honestly I don't see him going downhill or in the second part of his career. My feeling from speaking with Dani is that his priority is to stay with Honda."
Speaking after the post race test in Catalonia, HRC Vice President Shuhei Nakamoto said that they are hoping to get a deal sorted before Silverstone. 
"Our priority is to keep Dani and agreement must come before Silverstone," he said.