No 2015 LCR offer for Bradl yet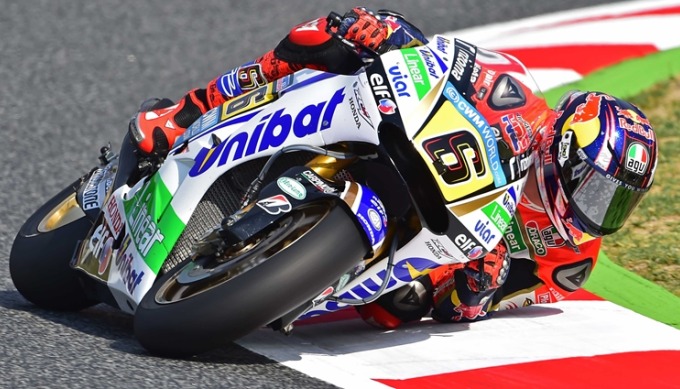 Stefan Bradl is yet to receive a contract extension from the LCR Honda team for 2015, increasing speculation the German may be released at the end of the 2014 season.
Bradl's one year contract extension with Lucio Cecchinello's LCR team expires at the end of this season, and there has been speculation at HRC are ready to move the German on, and give his RC213V onto a new talent, after HRC bosses think the 24 year old has failed to improve and live up to his potential.
The 2011 Moto2 World Champion was under pressure from HRC, and with speculation Honda are ready to make one of their RC213V satellite bikes available, it leaves the German in a precarious position. However Bradl isn't worried about not being offered a new contract yet, insisting that things can happen quickly and suddenly in the MotoGP paddock.
"So far I have no offer on the table for 2015," said the 24-year-old speaking to Speedweek.
Cecchinello gave Bradl his chance in MotoGP after the LCR failure with Toni Elias, and Bradl is very happy with the LCR team he is in, and wants to stay there.
"My primary goal is to stay with HRC. The Honda is the best bike. When it's all done, I would prefer to continue with Lucio. My desire is that this happens again, and it's not unlikely."
Bradl remains positive that his desire will become a reality, but he knows that a few other things have to happen before he gets his new contract with HRC. 
"It is important that first the four top riders make their decisions, ie after Márquez, Rossi, Lorenzo and Pedrosa. Dovizioso and Crutchlow too. Then we will see how the rest of the seats are distributed. That is not in my power. 
"In this business, things can happen quickly, and suddenly then everything rolls through…"
Despite his preference being to stay with LCR, Bradl is aware that he may need to discuss his options with other potential teams should the contract extension not be forthcoming.
"Of course the contract talks will now start properly, then it goes on from Assen to Sachsenring until Indy and Brno. Due to the time, that is, where decisions are made."