Dovizioso says Marquez should try and win every race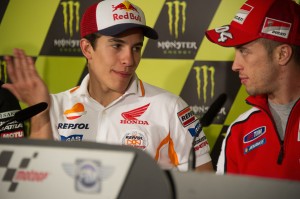 Factory Ducati rider Andrea Dovizioso thinks that reigning champion Marc Marquez should try and achieve the impossible, and win every race in 2014. 
Marquez has a perfect six from six start, all from pole, to start the season in a record breaking manner, opening a commanding 53 point gap. 
This would be something not replicated by any of the modern MotoGP greats. The most Valentino Rossi has won in the premier class is 11 and Mick Doohan 12. Agostini managed it back in 1969 on both 350 and 500cc bikes, but can Marquez manage it in the modern day?
The 2004 125cc World Champion believes that the Spaniard should try and win every race, rather than consolidating his already commanding points lead.
"I don't know a lot about Marc, but in this situation I think it is good to try to win every race rather than manage the points," said the factory Ducati rider whilst speaking to crash.net.
"He is in the best situation to take a risk. When you make every pole position and win every race your confidence is at the maximum, so that is the right moment to push when you want."

Despite the perfect start to the season, Dovi is firmly in the camp that thinks Lorenzo is back to his best after his stunning second place in Mugello this past weekend. 

"It has been a strange year at the front," said Dovizioso. "Marquez is unbelievable. He is fast in every situation and until now Lorenzo has made a really strange season.
"Today Lorenzo was back to normal and, we will see in the next races, but I think he is able to fight with Marquez. Also Valentino in some races, maybe Assen or some good tracks for him and Yamaha, he will be able to fight. 

"But I don't know if anybody is able to beat Marquez because Mugello is not a Honda track and Lorenzo has won here many times in the last few years. Marquez is able to manage more or less every situation."