Jack Miller may go straight to MotoGP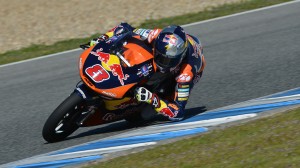 Current Moto3 Championship leader Jack Miller has confessed that he would be open to the idea of moving to MotoGP in 2015 should the right offer come his way.
The Australian has been a revelation since making the switch from the RTG Honda to the Red Bull Ajo KTM this season, and this is made the team owners in not only Moto2 but MotoGP sit up and take notice of the talent the young man from Townsville has. 
If Miller does indeed become the first man to jump straight from the Moto3 class that was introduced in 2012, he will also become the youngest man in the MotoGP paddock. 
Despite nobody making the leap from Moto3 to MotoGP yet, it is of course not much different from the former set up of 125cc, 250cc, MotoGP. So although his path may become unconventional, going from a 250cc to a MotoGP bike has been done before.
Before Miller makes any decision on his future, he will sit down and talk to his current team boss, and personal manager Aki Ajo. Although there are suggestions that HRC have already tabled an offer for Miller. Quite what the offer entails remains under wraps, although there is talk of a four year deal in the LCR MotoGP team on the table. 
Speaking with German website Speedweek, Miller explained that he expects to be in Moto2 next season, regardless of the outcome of this seasons Moto3 Championship, but would consider the right MotoGP offer.
"My plan is Moto2, definitely," said Miller. "But we need to look at what all comes on the table.
"I have a one-year contract with the Ajo team. I want to definitely go to Moto2 next year."
When asked if he would sign for a MotoGP team next season, the 19-year old said:
"If I can get a long-term contract I would do it. If the right offer was on the table, with a decent bike, I could take up the challenge, I think. Even if it was an 'Open' class bike, then I can get used to carbon brakes and have decent tyres. But it needs to be a long term contract."
Even if Miller does end up in Moto2 next season, he would be keen for testing a MotoGP bike, much like Redding did with the Ducati whilst he was still in Moto2.
"Yeah, just like Redding with Ducati for example. This is not prohibited," Miller said when asked about if it was an option he would consider. "If it were up to me, I would deal with the Moto3 Championship now, for as long as possible and only talk at the end of the season about my future. But as always, it's not."