Jack Miller's signed with Marc VDS till 2016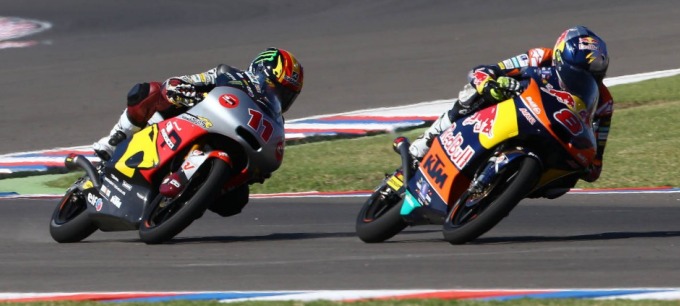 Argubaly one of the most sought after men in the paddock, Jack Miller, has signed a two year deal with the Marc VDS team tying him down until 2016.
The young Aussie has seen his stock roar after impressive performances after moving to the KTM back Ajo team, and with rumours of a MotoGP ride for young Miller, it really is an important time for the Moto3 Championship leader to decide his future. However, all the rumours and speculation that Miller could follow in the footsteps of his compatriot, by jumping directly from the smallest class into the MotoGP class, could be rubbish after it has emerged Miller has signed a deal with the Marc VDS team.
Marc VDS team boss Michael Bartholemy came out in an interview with Speedweek and explained that Miller had actually signed a three year contracgt with the Belgian team at Silverstone in 2013.
"This agreement was signed on Silverstone weekend of 2013; it lasts for three years," said Bartholemy. "The idea for 2014 was that Jack, who was seventh in Moto3 World Championship the year befre, immediately moves to Moto2 with us. But then, Jack said he would like to have another year in Moto3, for which I have applied understanding.
"I have replied: Look, if you're staying in Moto3, then you're with Aki Ajo, in better hands than ours, because our Moto3 project has not been established for a world title hunt, but Livio Loi there to help with WRC entry.
"Jack has therefore signed a one-year contract for the Aki Ajo Moto3 team. Clearly, he's riding for Marc VDS Moto2 in 2015 and 2016. That is the truth. These are facts."
Bartholemy is understandably frustrated of the rumours that he may sign for a Moto2 rival, or even for HRC in MotoGP. Especially after demonstrating such leeway allowing him to sign for the Aki Ajo Moto3 team, despite having signed for the Marc VDS team.
This season has seen the added complication of having Miller assign Aki Ajo his personal manager, as well as his current team manager. With his immense success this year, it was obviously bound to cause complications.
"There was first a pre-contract, which was then followed by a major contract that we have sent to Jack's parents and him, it was signed by the parents and by Jack. This Fin has then tried to bring the deal to wobble. But legally it is quite clear: if Ajo wants Jack in 2015 and 2016 to not come with us, then money must be paid to us. That is a fact.
"However, it's not the primarily about the money, we want to have the rider, because we find him good. We want to invest money in this rider. Therefore, we have already made ​​Jack a good finical offer in the summer of 2013. I think I was faster and smarter than many other people. If other team leaders and managers will not wake up until a year after me, I can not help it."
One of the complications that Marc VDS and Miller may find themselves with, is the salary to the contract that Miller has already signed. When Miller signed the legally binding contract (which Miller's parents also had to sign due to Miller not being of legal age in Australia) he was obviously less valuable than he is now.
"I have an existing contract with Jack Miller. Aki can always get in contact with me, I'm totally open," said Bartholemy when asked if he spoke to Ajo about Miller's future.
"But I've heard that Jack Miller said two weeks ago: 'Next year I am 100% going to Marc VDS in Moto2. But my new manager needs to speak again with Michael Bartholemy about my salary, because I am financially worth more now.' Okay, but the contract was signed at Silverstone in 2013. At the time, Jack was seventh in the World Championship. Jack was then worth what I offered him.
"This is a very, very good salary, even if it relies heavily on results, so on success fees."
This clearly has scope to get very, very messy with Miller seemingly answering only to Ajo, despite having this contract signed. Whether HRC decide to buy Miller's Marc VDS contract out for a MotoGP ride in 2015 remains and option, as does Miller joining a team which looks like they may well be defending Moto2 Champions.
You can read the whole of the Bartholemy with Speedweek interview here.