Rossi says the team are important as the rider and bike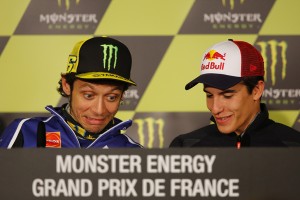 Valentino Rossi has said that there is more to Marc Marquez' success than just his bike.
Rossi who won three world titles with Honda back at the turn of the century, before moving onto Yamaha after labelling Honda as arrogant, has seen Marc Marquez have to face doubters much like Rossi had to do back in 2003. Whilst there has been no indication that Marquez has any intention of following in Rossi's footsteps in that manner, there are undoubted similarities between the pair.
Rossi, however has come out in support of Marquez and his team, suggesting that they are just as important to his immense success than his RC213V.
Whilst speaking to speedweek.com, the nine-times World Champion said that the combination of Marquez, the RC213V and his crew, lead by Santi Hernandez is why Marquez is enjoying his record breaking start to the season.
"At the end of the rider is very important, it can make all the difference. But today, the team plays an important role," said the Doctor.
"I would agree, if someone says the success rests on three pillars. First, the rider driver. Second, the motorcycle. Third, the team. All three pillars are responsible for 33.3 percent of the success.
"Today, you need a very good chief mechanic, and a specialist for data recording. It is not a one-man show, it's about teamwork. And of course the bike plays a valuable role. If you have a disadvantage in material, it can be difficult to iron out."
The Doctor also admitted that he has had to embrace some of Marquez and Lorenzo's riding styles into his own in order to remain competitive in the current field.
"I have worked in this regard in the winter, a lot," he said. "I tried to modify my riding style a little bit, because Marc makes some things differently. But honestly, I picked a lot from Jorge Lorenzo. Because with the Yamaha you have to ride differently than you do on the Honda. I have tried to learn from them."