Nicky Hayden to undergo wrist surgery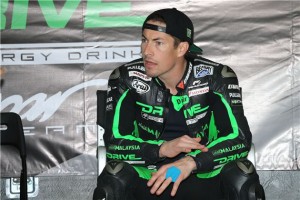 Nicky Hayden will undergo surgery on his troublesome right wrist next week, leaving his participation in this weekends Italian Grand Prix at Mugello in doubt.
Hayden who was one of only four laps to complete a "flying lap" this afternoon in Mugello, has decided to go under the knife to rectify the problem which is holding him back.
The wrist problems became prominent after the Spanish Grand Prix at Jerez at the beginning of May, when in the Monday test Hayden forwent his opportunity to put further laps in on his DRIVE M7 Aspar production Honda due to his wrist problem.
After battling through the French Grand Prix weekend, and despite intense physiotherapy since Le Mans, the 2006 MotoGP World Champion has decided that now is the time for surgery.
Hayden has yet to make a decision about if he will continue to participate in this weekends events, but a decision is expected to be made early Saturday morning.
"I had a lot of pain in my hand today. I thought the break after the last race at Le Mans would be enough for me but here the problem is worse," said the Kentucky Kid speaking after free practice. "I worked really hard last week to try and recover with different kinds of therapy and a hyperbaric chamber but the injury to my right wrist has not improved.
"In France I was able to ride through the pain but this circuit is much faster and more demanding. After talking to the doctors it seems the smartest move is to undergo surgery next week in order to be fully fit again as soon as possible," he said.
"It's not really improved a whole lot, as much as we'd have hoped. Of course falling on it again in Le Mans didn't help. I'm riding with pain killers at the moment. It's not ideal."