Yamaha riders refuse to rule Marquez out of title hunt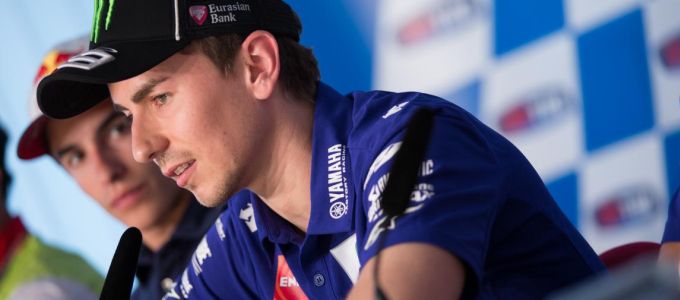 Despite the claims of some journalists and fans, Valentino Rossi is refusing to rule Marc Marquez out of the 2015 MotoGP World Championship race, this is in spite of being nearly two race wins behind the Italian in the standings. 
The Spaniard has won just won race in 2015, with the other five being won by Movistar Yamaha riders (Lorenzo three, Rossi two) and Marquez arrived in Mugello 33 points behind the resurgent Rossi. Despite his woes, Rossi refused to say Marquez was in a crisis last time out after the race in Le Mans. 
After today's race in Tuscany, Rossi and Lorenzo continued on the same tune, refusing to call Marquez' title defence over, this is in spite of crashing out of today's race. At the end of the sixth round, Marquez now finds himself 49 points behind Rossi, and stuck with a motorcycle that isn't anywhere near as fast, or easy to ride as the Yamaha.
"A lot of champions have recovered more points than Marc has now," said Lorenzo, victor of the Italian Grand Prix.
"We have to understand that it's the sixth race, we still have twelve, double races that we have already made, so anything can happen. We can break engines, we can make mistakes and Marc can win races in a row like I did. He's not so far as we saw today, he recovered in one or two laps the positions that he had lost in qualifying. Luckily for us he crashed and this is good for the championship!"
Whilst Rossi admitted he never expected to be this far ahead of Rossi, he knows how quickly things can change in MotoGP.
"The situation of Marquez is unbelievable now," said the Doctor.
"Nobody expected that after six races Marquez is in fifth position in the championship. It's a big surprise for everybody.
"But like Jorge says, we think about Marc Marquez and Factory Honda, I think they have some problems now, technical, balance of the bike or something. But they can recover, very, very fast also and come back stronger."
It's no surprise for both Yamaha riders refusing to rule Marquez out, but with one injury, or mechanical, everything could change. With 300 points still ready to play for, nothing would be out of the realms of possibility for the youngest ever World Champion. 
Photo via MotoGP.com and Repsol Honda