Michael Dunlop wins the Superbike TT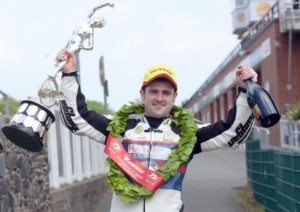 Michael Dunlop dominated the Daniese Superbike TT from start to finish to claim his eighth TT win by 20 seconds ahead of Guy Martin and Conor Cummins.
As well as Dunlop's sensational race, Bruce Anstey broke the outright lap record, becoming the first man to lap at over 132mph, with a 132.298mph lap.
Dunlop was almost in the lead from the moment he set off, and offically took the lead from James Hillier at Ballaugh on lap one. And once he had that lead, he never relinquished it, breaking the previous lap record on lap one with a 131.730 and again later in the race with a 131.890.
"I got the good start I wanted, was a bit nervous early on but then I just sat there," said Dunlop.
"People thought I was made when I left Honda going to BMW which was not proven around here, but we've shown what it is capable of with this result. I am so happy to be here and this is a nice present for the team. They have worked so hard on the bike which was fantastic, just perfect.

"I can't say enough about the boys in the team who were up all night working on the bike and now I have another five races to come – we'll get over the beer tonight and then think about them. I came here wanting to win a race, I've done that, great, but there is a lot more to come from this BMW."
It was all action behind Dunlop with Martin only beating Manxman Cummins by just three seconds.
Bruce Anstey's hopes of a win were evaporated he ran on at The Nook, costing him 30 seconds, but that didn't stop him trying, and he continued to push before setting the new lap record on the final lap, helping him to fourth place.
Michael Rutter ended the Superbike TT in fifth place, just ahead of William Dunlop and John McGuiness. Dean Harrison was eighth whilst James Hillier and Josh Brookes rounded out the top ten.