Anstey heads first TT practice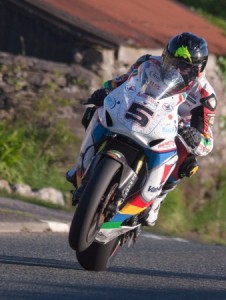 Bruce Anstey was the fastest man, leading the first practice session, during the 2014 Isle of Man TT. Anstey on his Valvoline Honda Fireblade, topped the opening night's Superbike practice session with a 127.473mph lap, ahead of John McGuinness and Gary Johnson.
Anstey's was the stand out fastest man during the first day of pratice on the Isle of Man, with his second, third and fourth laps all being fast enough for first place. It was three Honda's in the first three spots as it looks good for the Fireblade in Superbike practice.
William Dunlop aboard his GSXR-1000 Tyco Suzuki, finished the evening in fourth place on a 125.400mph lap, and just one place ahead of younger brother Michael on his BMW S1000RR. Michael looked ready to challenge to Honda's at Ramsey, but fell backwards and lapped a 125.355 on his third lap of the evening.
Michael Rutter was sixth on his Bathams BMW, putting in a 124.740. Just ahead of local lad Dan Kneen who impressed with a 124.658. Dean Harrison was eighth fastest, producing a 123.580. Conor Cummins on his Honda was ninth, as he the best he could manage was a 123.381. David Johnson rounded out the top ten with a 121.540.
2010 TT hero Ian Hutchinson got back into the swing of things, managing a 120.477 on his R1 from a standing start, as he attempts to recreate some of the magic from 2010 from before his horror injury. Teammate and now on his second year at the TT, Josh Brookes only managed one lap on his R1, and he managed a 114.258mph lap over the 36 miles. Guy Martin had a timing problem, so his times weren't recorded.
Peter Hickman set the timing screens alight and was the fastest newcomer with a 115.103mph lap, and in doing so became the quickest first-night newcomer in history. Former GP rider and TT rookie Danny Webb clocked a 108.921mph on his fourth lap on his stock superbike.
Rather unsurprisingly, Michael Dunlop dominated the Superstock times. Lapping with a 123.239 from a standing start Dunlop was comfortably faster than brother William (122.461) and David Johnson (122.289).
Gary Johnson led the Supersport session with a 122.619. John McGuinness was second on a 121.607, whilst Lee Johnston was third with a 118.183.