Marquez hits the field for six in Mugello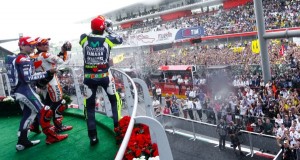 Marc Marquez won his sixth straight Grand Prix from pole position in Mugello after a classic duel with Jorge Lorenzo that went down to the last lap in Italy.
The World Champion showed just how good he is by overcoming as exceptionally brave ride from Lorenzo, and the pair were joined on the podium by home town hero, Valentino Rossi, in his 300th Grand Prix.
Marquez appeared to be sitting behind Lorenzo for most of the race after battling through from fourth position, and when he attempted to make his move Lorenzo helped him by running slightly onto the dirt, spinning his rear tyre up, on the pit exit. However Lorenzo didn't allow Marquez to get into his rhythm and turn the final laps into a precession.
Lorenzo stuck his bike into any gap he found for the final five laps, any made Marquez work for his sixth consecutive victory. But despite his return to form it wasn't enough to halt Marquez' record breaking surge.
"I'm really happy, I think this is the toughest race of this year," said Marquez. "I was struggling in the beginning, Jorge was very strong mid corner. He carried a lot of speed. With the used tyres I felt better, like in the practice.
"Everything was perfect, we were able to overtake him on the straight due to a change we made to sixth gear. I'm really happy for the team too. We now go to the home track, it will be a difficult race, but we'll try to fight for victory again.
"When I passed Jorge I knew immediately he would come back. That's why I didn't push 100%. I was on the limit behind him so I pushed for one lap to try to be calm. On the last lap I pushed 100% to get the win."
Despite being bitterly disappointed at not being able to cling on for his first victory of the season, Lorenzo was pleased to be competitive.
"I'm happy, I could be more happy if I had won but I tried my best. Probably in the last corner I should have stayed more in the inside to try to overtake him on the inside line but I made a mistake and went wider and it was impossible to overtake him on the straight.
"When I feel physically strong and the bike has a small improvement I can be there and fight with him. We have some margin, some physical condition to improve for me and the bike can make another step so we will get better. I've worked really hard to be more physically fit and the team also worked very hard this weekend to give me a great bike, so thank you to them."
The sea of yellow that came out to see Rossi in his 300th Grand Prix saw him battle up to third from tenth place on the grid, but unfortunately he was just too far back to make a serious impact on the front two.
Dani Pedrosa was strangely distant, and battled through to a very lonely fourth place. HRC said that Pedrosa was having real issues with the arm he had arm pump surgery on, and will fly to Barcelona for checks tomorrow. Pol Espargaro made four of the first five to cross the line Spaniards next week, and with the next race in Catalunya, the Spaniard's are finding form ahead of their home round.
Andrea Dovizioso pipped Andrea Iannone to the braging rights of top Ducati in their home race, and Iannone even led the opening stages of the race before Lorenzo, Marquez and Rossi got ahead and pulled away.
Alvaro Bautista had a solid, if not spectacular ride to come home in eighth, ahead of Aleix Espargaro and Yonny Hernandez who rounded out the top ten.
Stefan Bradl was involved in an unfortunate crash. Cal Crutchlow lost the front end of his Ducati and his bike then carried on sliding, and hit the German who was severely beat up before a huge morning high side.