Anstey heads the timing sheets again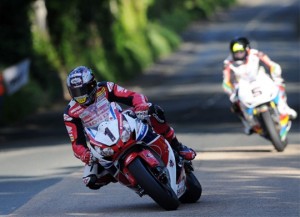 Bruce Anstey continued to throw down the gauntlet to his rivals as on the Kiwi was the fastest rider once again on the second evening of TT 2014 practice.
Much like on the first evening of practice Anstey head McGuniess, and put in a time of just under 131mph on his Honda Fireblade.
Anstey had a transponder problem on his 'blade, so his lap had to be measured on the old fashioned way, but it did capture his lap time of  a 130.86mph. Which was over three mph faster than his time from last night. John McGuinness also improved, laying down a 129.395 mph lap with his electronic transponder working. The Morecambe Missile however said that Anstey must have been lapped even faster than his time would suggest as Anstey overtook the 20-times champion on the road.
Guy Martin was third fastest after failing to register a lap time yesterday – through not fault of his own – and Guy managed to go straight in with a 129.164mph lap on his Tyco GSXR-1000.
Michael Dunlop was fourth fastest, but didn't manage more than one lap. Dunlop managed a 129.032mph lap off a standing start. Dunlop did however have to pull in on his second lap at Governor's Dip after running out of fuel. It will lead to frustration because he was four seconds up on McGuinness at Cronk-ny-Mona before his bike gave up on him.
Veteran Michael Rutter was fifth fastest as he continued his good form, improving to a 128.728mph lap. Rutter was just ahead of Conor Cummins. Cummins was sixth on his Honda Fireblade with a 128.719 lap.
William Dunlop on his Tyco bike seventh on a 127.910 lap. Gary Johnson was next up on a 127.707mph lap, Dan Kneen produced a 125.853mph while Ian Hutchinson improved on his Milwaukee Yamaha and rounded out the top ten on a 125.026mph lap.
Josh Brookes was marginally slower than his Milwaukee Yamaha team-mate after experiencing gearbox problems, pulling out a 124.842mph lap around the mountain.
Last night's fastest newcomer, Peter Hickman, improved on his second evening at the TT as he went faster, and managed to pull out a 119mph lap.