Marquez signs extension with Honda until 2016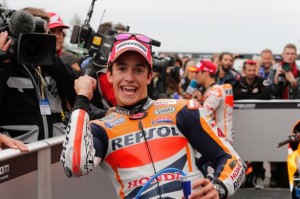 Defending World Champion Marc Marquez has signed a two year contract extension with the Repsol Honda keeping him with HRC until 2016.
The current Championship leader has won every race this season, from pole position, meaning HRC made it an absolute priority to resign the 21 year-old up as soon as possible.
Marquez won the MotoGP Championship in his rookie season with Honda last year, and made it clear it was his intention to stay with HRC for the forceable future.
In 22 MotoGP races to date, Marquez has amassed ten wins, six second's and four thirds, finishing off the podium just twice since his first race.
Marquez looks well on his way to recording back to back titles heading to this weekends French Grand Prix 28 points ahead of second placed Dani Pedrosa.
"I am very happy to announce my renewal with HRC," said Marquez. "I had always dreamt about being part of the Repsol Honda Team, and thanks to Honda the dream came true a year and a half ago.
"Everything happened very quickly last season, and I would have never imagined that I could achieve what we did. Becoming World Champion during my first season was another dream which became reality. It is a great honour to be a part of the Honda family and I'm glad to remain with this special group of people for another two seasons."
Whilst HRC Executive Vice President Shuhei Nakamoto was very satisfied with his teams work securing Marquez to another two year deal.
"We are very satisfied to have reached an agreement to keep Marc in the team for a further two seasons," said Nakamoto.
"Of course as Honda we wanted to keep Marc in our family and he also wanted to stay with us so it was natural to renew the contract even if it is very early in the season! He is enjoying a fantastic start to 2014 and even though he is still learning, his ability to absorb information and adapt to the machine is remarkable."