Lorenzo and Yamaha unearth Jerez problem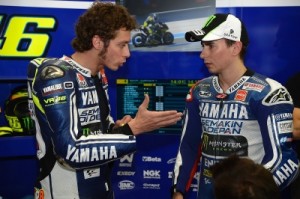 Jorge Lorenzo believes he and his Yamaha team have found the problem which has given Lorenzo his worst start to a MotoGP season.
Lorenzo thought he had his season back on track with a strong podium in Argentina, however seven days later he finished a very distant forth as he saw two Repsol Honda's and his team run off into the distance.
With a test in Jerez the following day, Lorenzo had a chance to try and work out what the problem was the day before. Lorenzo, after an extended run on the softer tyre concluded that he had made a mistake by going for the harder compound rear tyre on the Sunday.
Lorenzo was so sure that the harder tyre was the problem that he has said he wants to use the softer tyre in Le Mans, and expects to be closer to the front with it. 

"After the result in Jerez we could analyse the data during the test on Monday and we got some good information. We finished that test day happy with the result and we could figure out where the problem was during the race," said the 2012 World Champion. 

"We found that with the soft rear tyre we are much more comfortable than the hard one and therefore from now on we will be focused on this compound. We will try to get a more constant bike with the soft tyre and that is why we need to improve the bike and adapt it. 

"Now we travel to Le Mans, a new track and a new opportunity. The weather will play a big part, usually it is colder and can be tricky like it was with the rain last year. The asphalt can be slippery but I am confident we can manage the circumstances and try to get a good result."

The fall on lap one in Qatar then jump start in Texas have hurt Lorenzo badly in terms of the championship, where he is already 65 points – well over two race wins – behind Honda's Marc Marquez after just four events. 

Lorenzo is currently 65 points behind points leader Marc Marquez, and 26 points behind team-mate Valentino Rossi in the championship standings, it could be cause for panic for many a rider. But Lorenzo insists he is just taking it on a race by race basis. 

"Right now I am just thinking race by race and not about the championship. I think I will have a better pace there, I have had some wins in Le Mans and I like the circuit."