Scassa injured in Mugello crash; what next for IODA?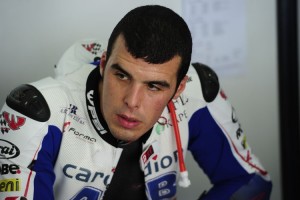 Luca Scassa has broken his right femur during a testing crash at Mugello as he prepared to stand in for the injured Danilo Petrucci at Le Mans.
After being named as the replacement rider for the Italian for this weekends French Grand Prix, the Italian had been on track in Mugello alongside Max Biaggi for the Aprilia supported team.
The Pedercini Kawasaki WSBK rode the ART last season, replacing Karel Abraham in the AB Cardion team for five rounds. Last season he rode under the CRT banner, but he was now re-familiarising himself with the bike, and testing the new privileges allowed for this seasons open class entries.
However during the test, the 29-year-old suffered a big highside coming out of Luco, before landing on his right leg, breaking his femur. The injury will require surgery, and it now leaves his participation at the Donington WSBK round in question.
This has left the IODA team in a sticky situation, with the replacement rider now injured the team needs to decide if they will attempt to source a second replacement rider, or if they will withdraw from this weekends race. All sorts of names have been banded around as the IODA team search for a second rider, ranging from Max Biaggi to Leon Camier.
Camier was in line to ride for the IODA team this season alongside Petrucci, but unfortunately a ride never fully materialised, and he is now currently standing in, in the WSBK paddock, without a full time ride.
Biaggi has just completed a two day test alongside Scassa, and despite saying he won't stand in, he did not categorically rule out a return. During the first day at Mugello Biaggi lapped 5.5 seconds slower than Dovizioso's time on the Ducati. When discussing his first day in Mugello, Biaggi said he feels like he still has the skill, even if there isn't a serious opportunity to race again.
Speaking to GPone.com the Roman Emperor, who turns 43 next month, said: "I am sitting on a racing machine for the first time in a year. But I would say my skills are still there. Still, I see no real opportunity to contest a MotoGP race. I'd almost rule out a comeback." Almost being the crucial word there. Biaggi still thinks he could do a good job.
He went on to say that he thinks he could've lapped faster and that if he is too quick, it could be a problem to somebody. Make of that what you will.
Sylvain Guintoli's name is also being thrown about. The French Aprilia Factory rider rides pretty much an ART – granted on Pirelli tyres and steel brakes – but the Frenchman, at home in France, especially with Le Mans reputation for, shall we say, indifferent weather could be something to marvel. It does remain unlikely however with a World Superbike Championship to fight for, a mistake standing in could prove pivotal.
Whilst they are all rumours at the moment, as soon as we hear anything either we, we will be sure to let you know.