Marquez wins inaugural Argentine Grand Prix; Completes Hat-trick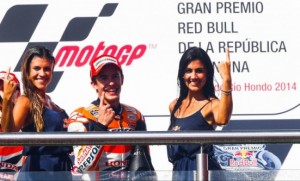 Marc Marquez put in another stunning ride to win the inaugural Argentine Grand Prix at the Autódromo Termas de Río Hondo ahead of Dani Pedrosa and Jorge Lorenzo. 
The reigning World Champion who started the race from pole didn't enjoy the same dominant victory that he had the luxury of two weeks ago in Texas. A bad start and a crazy opening few laps which saw the top eight separated by less than a second made Marquez work for his victory this weekend. However by the middle of the race he had fought through and started to close in on early runaway leader Jorge Lorenzo.
"I enjoyed it a lot, especially at the beginning fighting with all the riders," said Marquez. "We overtook I don't know how many times but it was so nice! I enjoyed it, but it was quite a big risk and I saw that Jorge started to open up a gap. 

"So I tried to catch him, then when I was behind him I followed for some laps. With nine laps I started to push a little bit more because I saw Dani was coming and then I just kept the distance. The key to this race was to manage the tyres well, especially the rear tyres."
Lorenzo was able to break away slightly at the front in the early stages of the race, but after his young compatriot caught him, the World Champion put the move on, and disappeared past him just after half race distance. A late charge form Dani Pedrosa saw him catch and rob Lorenzo of a second place, but the Mallorcan was just happy to be on the podium.
"It is probably my sweetest third position in MotoGP, or maybe all my career," said Lorenzo.
"I arrived after two mistakes but I think I received too much criticism, especially from some journalists, that I didn't deserve. It's true I made some mistakes, but I've made very good races over the past years," said Lorenzo, who slid off in Qatar before jumping the start in the Austin MotoGP last time out. 

"We demonstrated that even when we are not in our best shape, or in our best moment, we can still fight with these two guys. I think we have to keep pushing like now and when our moment arrives we will be prepared to try to win races. 
Valentino Rossi ended in fourth place, but leaves South America frustrated. The Doctor had real podium potential pace, but was denied the chance to get on the rostrum after being caught up fighting with Stefan Bradl, and running wide. By the time Rossi had disposed of the German Pedrosa was gone hunting down Lorenzo. 
Andrea Iannone continued his impressive start to the season, and ended in a career-best sixth, and was running in third place in the early stages, before ending in sixth place, but still ahead of the Tech3 M1's of Smith and Espargaro, and as head Ducati with Andrea Dovizioso not able to back up his Texas podium with another strong performance, with the Italian ending ninth.