Magical Marquez makes it eight straight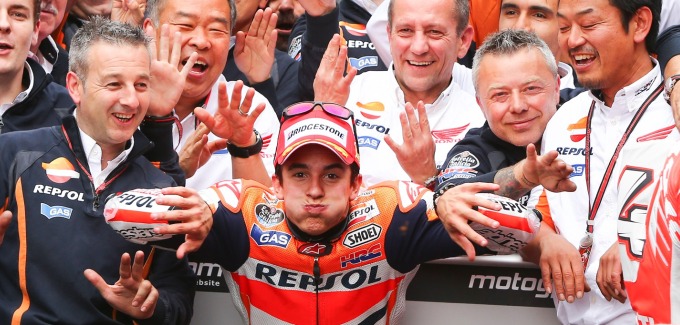 MotoGP World Champion Marc Marquez won his eighth race out of eight in difficult conditions during a flag to flag thriller at the Dutch TT in Assen. He was joined on the podium by Andrea Dovizioso and team-mate Dani Pedrosa.
The race was delayed after a late rain shower passed over the Dutch circuit, leaving the riders to decide upon wet or slick tyres after two sighting laps.
Marquez judged the conditions to perfection, starting on his wet bike, and swapping to his dry one on the seventh lap in spectacular fashion as ever, he managed to keep his record at 100, despite facing early competition from an aggressive Dovizioso. Marquez eventually pulled away, and won the race by a comfortable 6.7 seconds, becoming the first man to win the opening eight races in 43 years since Giacomo Agostini managed the same feat.
"It was so difficult because of the conditions and it was quite dangerous, but my team were so clever and I was calm and was able to concentrate on my riding," said Marquez. "Of course it was a difficult race because of tyre wear and then the track started to dry; I felt better and better in those conditions and my pace was good. I felt good to try to close the difference and I pushed to catch Dovi and overtake him. 

"The team had everything under control and that helped me a lot because if it is all panic then that can affect you, but I was calm because of my team. Of course there was a question mark if we should start with slicks or with wets, but we thought slicks were too dangerous and we started with wet tyres."
Dovizioso gave Ducati their second podium of the season in what looked like a step forward for the Italian, and he will be hoping that they can continue this form in Germany. Dani Pedrosa overcame pole man Aleix Espargaro in the battle for the final podium spot after a race long battle between the Open bike and the factory RC213V. Espargaro in the damp conditions appeared to be enjoying smoother power delivery on the under powered Yamaha bike.
Valentino Rossi will be ruining his gamble at the start of the race after finishing in fifth place. The Doctor gambled and started the race on slick tyres from twelfth place, but he had to stop and change to wets, before a few laps later having to come back down pit lane to get back onto slick tyres. Despite cutting through the field on the slicks it was all too little, too late to have a major impact on the outcome of the race.
Andrea Iannone had another impressive outing, finishing in sixth with Alvaro Bautista finishing just ahead of Bradley Smith, with Cal Crutchlow and Stefan Bradl rounding out the top ten.